Magic Mirror Preschool Pretend Play
This magic mirror is easy to make to add glamour and glitter to imaginative play. Our simple tutorial will help you and the kids make your own sparkly mirror to create some magical fun.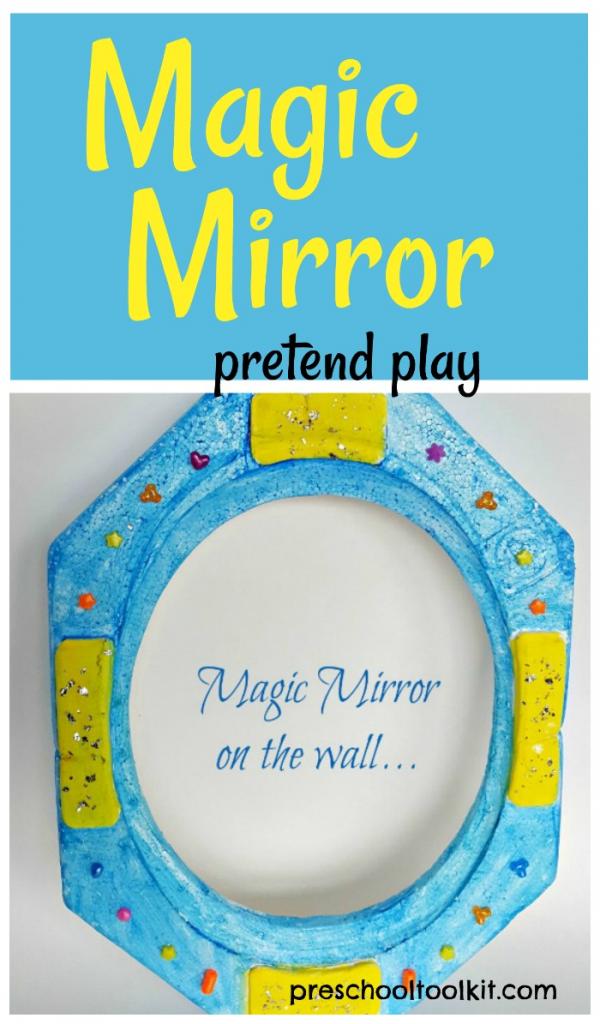 This post contains affiliate links. Privacy and Disclosure
Pretend play is an effective way for kids to explore the world around them. Kids can safely interact in activities and challenges they create or initiate themselves, activities that provide lots of learning opportunities while they are having fun.
Pretend play with a magic mirror promotes use of language and gross motor skills, as kids create new characters or recreate familiar ones; imitate voices and movements; and extend the play with other props.
Magic mirror pretend play


This activity was inspired by the children's story Snow White and the Seven Dwarfs. Remember the line 'Mirror mirror on the wall'?
Kids can easily recreate the magic with a sparkly mirror and some awesome imagination.


Supplies for magic mirror craft
oval foam packaging
paint
gems or confetti

Instructions
1. If foam is not available, make the mirror with a piece of sturdy cardboard. Cut the cardboard into an oval shape, then remove the center in a similar oval shape, leaving a mirror frame 3-4 inches wide (7-10 cm).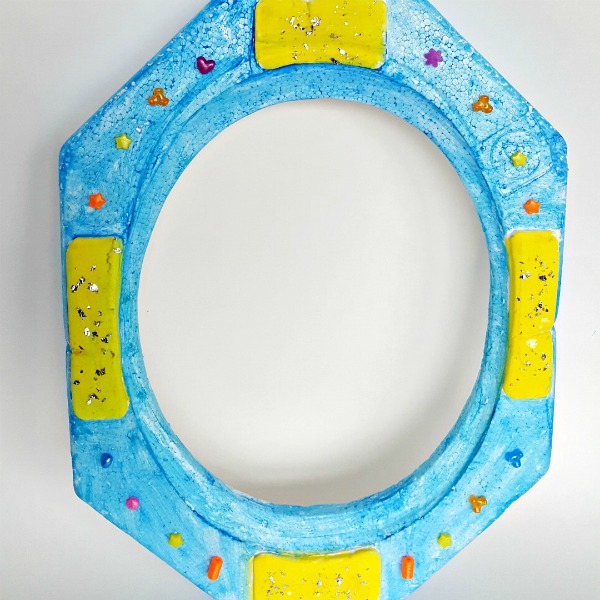 2. Paint the mirror. We used blue for the frame and yellow for 'gold' trim.
3. Sprinkle paper confetti or glitter over the paint while it's wet. When the paint is dry, you can rub a glue stick over the mirror and add more glitter!
4. Glue beads, craft gems or other decorations onto the frame for 'jewels'.
Visit our Pretend Play board on Pinterest!
How to play!
Games can be played with two or more children.
Here are some suggestions for how to play with your magic mirror.
1. One child holds the mirror up to his face while another suggests a sound or expression for the child in the mirror to make.
Magic mirror on the wall.........
(child's name) is making the funniest/saddest/fiercest face of all.
2. One child holds the mirror up to his face and makes an expression while the other children name the expression.
3. One child holds the mirror up to his face and another child stands in front of the mirror. The child holding the mirror makes an expression on his face and the child facing the mirror copies the expression.
More imaginative play
Garden Pretend Play / Views From a Step Stool
Natural Materials for Pretend Play / Rhythms of Play
Space Pretend Play / You Clever Monkey
Camping Pretend Play / Where Imagination Grows
Fishing Pretend Play / Fun Learning for Kids
Train Pretend Play / Toddler Approved