Easy to Make Puppets for Pretend Play
This roundup of homemade puppets is filled with amazing ideas you can use today. The fun projects include easy-to-make puppets using paper bags, craft sticks, felt and more!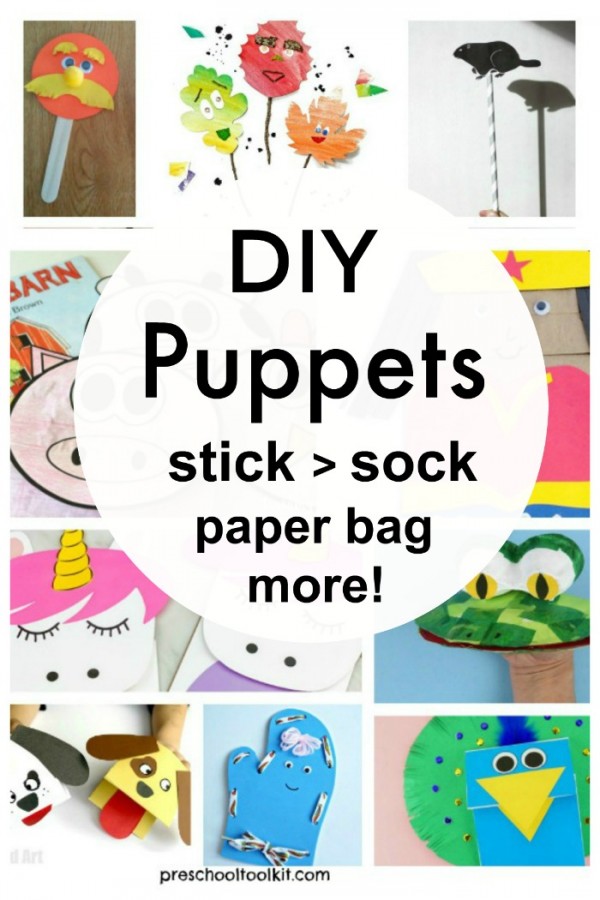 Privacy and Disclosure
for information on cookies and affiliates
Puppets can be used anytime, anywhere for awesome early learning through play. They provide opportunities for boosting fine motor and language skills while exercising imagination through creative story telling.
This roundup includes a wide range of options for making puppets - some are simple, some are more challenging, and some are surprising!
DIY puppets for early learning activities
There are many different ways to make puppets.
There are sew and no-sew options using various fabrics.
Patterns are available to download and trace onto paper.
Various craft materials can be used to construct characters.
Materials for making puppets can include everything from paper and felt, to sea shells and craft foam. Puppets in this roundup include ones made with all of these materials and more. There are also options for using everyday materials in new and creative ways.
Regardless of how they are made, puppets have exciting roles to play in early childhood development.
Puppets can be included in circle time or small group time to support language and socialization, to share emotions, tell stories, be silly or serious.


Puppets engage fine motor skills, both in making and using the puppets.


Puppets can be made available for independent play as well as small group play and teacher-led activities.


Browse this amazing roundup of ideas for making puppets and start an activity today.
Puppets in all shapes and sizes are here for you!
Finger puppets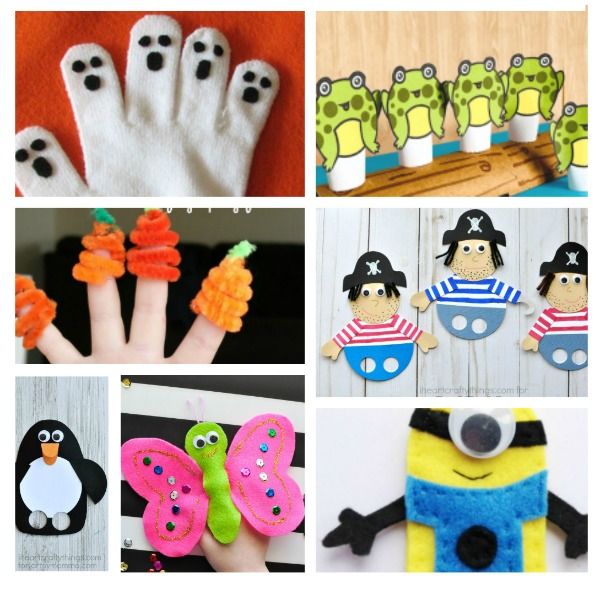 This no-sew ghost puppet from Mama Smiles is easy to make with a stretchy glove.
Counting 5 green speckled frogs is easy with a printable from Homeschool Preschool.
You'll love these five little pumpkins finger puppets made by School Time Snippets using pipe cleaners!
A penguin finger puppet from Artsy Momma supports fine motor fun!
Go on pirate ship adventures with pirate finger puppets from Red Ted Art.
Finger leg puppets from Picklebums inspire story telling while engaging fine motor skills.
A pretty butterfly felt finger puppet sparkles and shines at iheart Crafty Things.
Ninja finger puppets are easy to make with craft foam at School Time Snippets.
A felt minion finger puppet is easy to make with instructions from Crafts on Sea.
Kids will love these alien finger puppets made with a colorful download from Kiddy Charts.
Lovely Nativity scene finger puppets are available at Kids Craft Room.
Hand puppets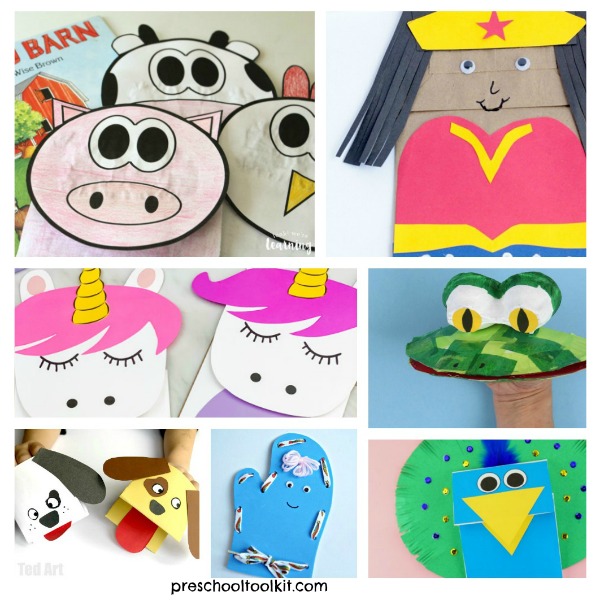 Grab these amazing printables from Look We're Learning to make paper bag farm animal puppets.
Make this envelope puppet craft with A Dab of Glue Will Do after reading a book about raccoons.
Celebrate your heroes with a Wonder Woman paper bag puppet from Darcy & Brian.
Who loves unicorns? Extend this theme to a unicorn paper bag puppet made at Simple Everyday Mom.
Get creative making paper bag animals with Mama Smiles.
A paper plate frog puppet is easy to make with a tutorial at The Craft Train.
This paper bag lion craft from The Keeper of the Memories is sure to be roaring good fun for kids!
Kids will love these awesome paper dog puppets from Red Ted Art.
Little Bins for Little Hands made a polar bear paper bag puppet winter craft for kids.
Make these mitten shape foam puppets for creative sensory play with a winter theme.
This gorgeous peacock puppet is easy to make with a paper bag and a printable from iheart Crafty Things.
Add this fun paper bag shark craft from Crafts on Sea to your ocean theme.
You'll love the colorful crinkly mane on this paper bag lion puppet from Meaningful Mama.
Sock puppets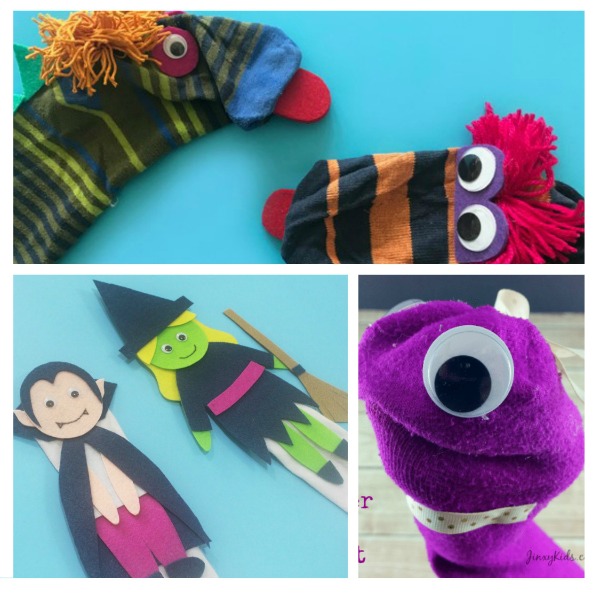 Learn how to make classic sock puppets with Red Ted Art.
Make a monster sock puppet with googly eyes like this one from Jinxy Kids.
These adorable Halloween puppets from Party with Unicorns are more cute than scary!
Stick puppets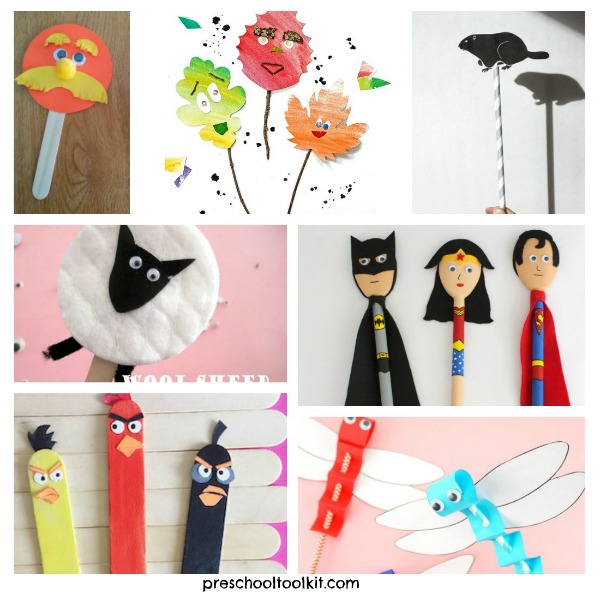 This Lorax inspired stick puppet from ABC's of Literacy is based on the popular book and movie.
Use kids own images to make photo finger puppets with Still Playing School.
Explore story telling with character cards in this sequencing activity from The Preschool Toolbox Blog.
Learn about leaves with a paper leaf stick puppets craft from Barley and Birch.
Explore the science of shadows with an animal silhouette puppet from Little Bins for Little Hands.
Singing a favorite nursery rhyme is more fun with this sheep puppet from Best Toys for Toddlers.
Kids will love these angry bird puppets created by The Joy of Sharing.
These fun jelly fish puppets from Picklebums have their own song. Sing along as you play!
These creative paper cup puppets are fun to make with The Tiptoe Fairy.
Dress up wooden spoons with colorful yarn like these at Best Toys for Toddlers.
Halloween themed wooden spoon puppets are easy to make and fun to use in a puppet show.
Super heroes with capes are made with wooden spoons at The Craft Train.
Farm animal spoon puppets are easy to make in this tutorial at Teach Me Mommy.
A cupcake liner frog puppet from Artsy Momma is just darling!
Use a paper straw to create a dragonfly puppet from iheart Crafty Things.
Pirate puppets are fun and easy to make with these printables from Daisies and Pie.
Adorable sea shell puppets are a must-see option at Blue Bear Wood.
Inspire silly play with these paper monster puppets from Twitchetts.
Story telling with Messy Little Monster is easy with spoon puppets depicting Goldilocks and the three bears.
Gorgeous animal cutouts become amazing puppets with a tutorial from Lorena & Lennox.
A popsicle stick angel and a reindeer from Artsy Craftsy Mom are fun puppets to add to a Christmas theme.
Have fun with a pop-up hatching penguin puppet from Kids Craft Room!
More puppet fun!
Puppet theaters and marionettes
Puppet shows can happen anywhere with a take along finger puppet theater from Best Toys for Toddlers.
Make a theater with recycled foam packaging.
Reuse a large cardboard box for a stand-alone theater.
A theater for marionettes tutorial inspires the artist in you to make the backdrops.
Take the puppet shows to small world play with a tissue box theater.