Inclined Plane Preschool Science Activity
Create an inclined plane with everyday materials for a fun science activity Kids can race toy cars, build obstacles, and measure distances in this exciting hands-on learning through play.
This post contains affiliate links. Privacy and Disclosure

Kids explore, and interact with, their surroundings on a daily basis. As they stack blocks, draw shapes, or build a car out of a cardboard box, kids are developing cognitive and creative skills.
These skills can easily be promoted by providing opportunities to explore in everyday play.


Related: Marble run with an inclined plane


Inclined plane activity
An activity with an inclined plane is one that encourages observation and experimentation. This is a child-led activity, meaning kids can participate in the setup and engage with the materials in their own ways.


How to set up an inclined plane


Two options for an inclined plane are included in this activity: the first inclined plane is a wooden rib from a window blind; the second inclined plane is a rectangular piece of cardboard.
Other materials can easily be used for this activity. The fun and learning begin when you create the inclined plane from whatever you have on hand!
Option 1.
This inclined plane is a single wooden rib from a window shade
. It has a smooth surface so the cars slide down quickly.
1. Rest one end of the plane against a low bench or chair.
2. Build a pyramid at the base of the inclined plane for the cars to knock over.
Experiment with a variety of materials at the base of the inclined plane, including wood blocks, plastic cups, a pile of cotton balls or a stack of marshmallows!
Related: Popular Hot Wheels Race Track Ramp!
3. Place strips of craft tape on the floor to measure and compare distances the cars travel.
Option 2.
This inclined plane is a piece of cardboard, wide enough so two or more cars can race together.
1. Make a fold near the top of the cardboard so the top portion lies flat on the seat of a bench or chair. This is the starting line for the racing cars.
2. Secure the cardboard to the bench with masking tape.


Kids can color or decorate the cardboard. This will add an art component to the play, extending a STEM activity into a STEAM activity.


STEAM = Science + Technology + Engineering + Art + Math
Related: Find out more about STEAM in this activity with a homemade catapult!

3. Place a cardboard tunnel at the end of the inclined plane. Measure the distance the cars go when they leave the tunnel.

Learning through play
Experiment with vehicles of different sizes.
Race plastic, metal and wood vehicles against each other.
Vary the slope of the inclined plane.
Sort vehicles according to observations such as: the one that goes fastest; the one that goes farthest; the one that rolls off the inclined plane.
With so many possibilities for setup, this activity can easily be used with kids of different ages.
Math and science can be explored and promoted according to the interest and skill levels of the kids.
More hands-on fun with simple machines:
A Simple Machine: The Pulley from Hands On As We Grow
Launching With a Lever from Buggy and Buddy
Simple Catapult for Kids from Little Bins for Little Hands
Science fun with awesome resources

Craft stick catapult from STEAM Kids Book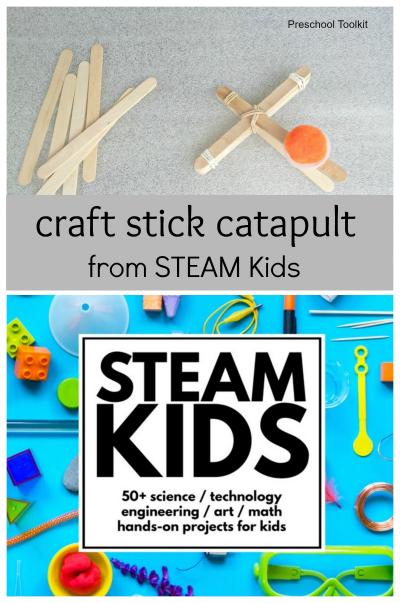 Find more STEM activities on our Pinterest board.