Felt Snowman Decoration Kids Craft
Kids can make a felt snowman for a fun holiday decoration. Add this snowman activity to your holiday or winter theme to support fine motor creative skills.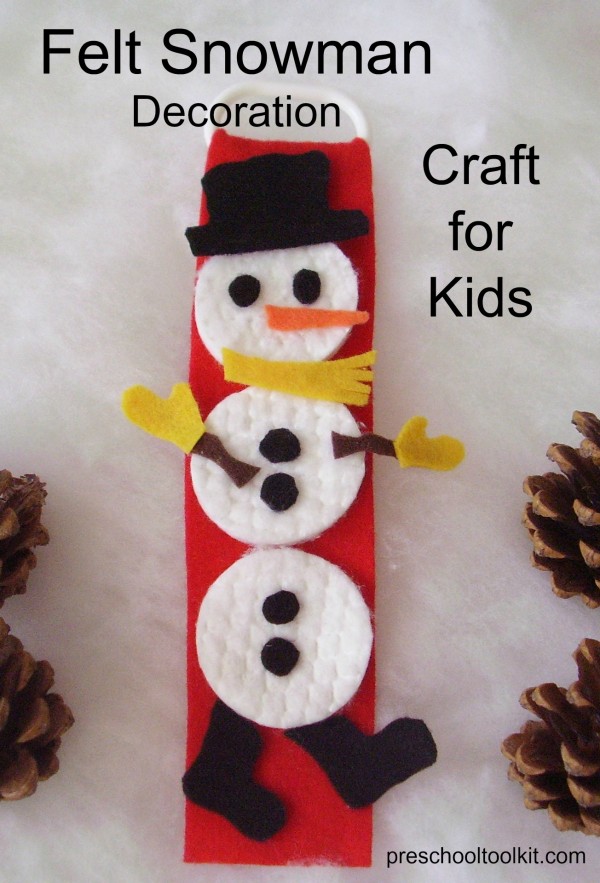 This post contains affiliate links. Privacy and Disclosure
Making snowmen is always fun, especially when it's as easy as this felt snowman craft! This is a fun ornament to hang on the Christmas tree, or give as a gift to a friend or relative.
Children will engage fine motor and sorting skills when making this friendly felt snowman.
Snowman craft
This snowman craft is easy to set up with small pieces of felt. Use scraps of felt left over from other projects. Be creative with the colors and shapes you cut out. Kids can help choose colors and designs for their snowmen.
Supplies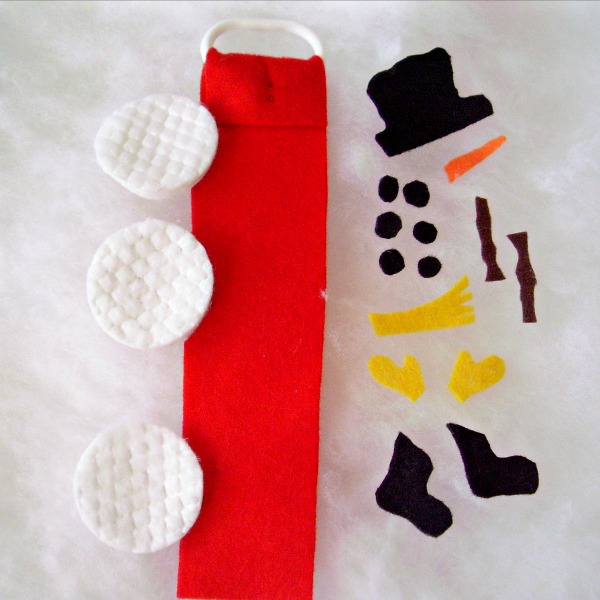 Felt
Cut a felt rectangle 2 inches x 12 inches (6 cm x 29 cm).
Cut pieces of felt for the features and accessories.
Include boots, mittens and scarf, buttons, hat, arms, and carrot nose.
Cut three felt circles for the snowman or use cosmetic cotton rounds as shown here.
Shower curtain ring
Recycle a shower curtain ring for the hanger. Alternately, use a chenille stem or ribbon hanger.
Instructions
1. Draw the felt rectangle through a shower curtain ring. Overlap 1 1/2 in. (4 cm.) and staple or glue to secure.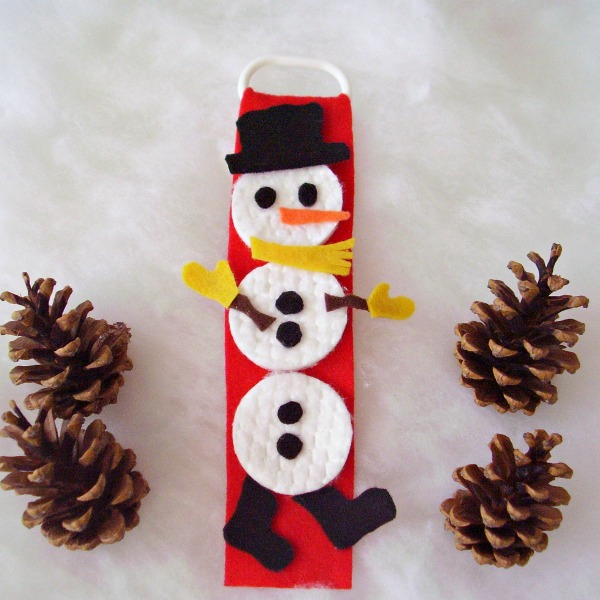 2. Glue three cotton cosmetic pads to the base to form the body of the snowman.

3. Glue the remaining features and accessories onto the body of the snowman.
Your felt snowman is ready for Christmas decorating!
This is a fun and easy craft for toddlers and preschoolers. It supports kids fine motor and creative skills as they build a snowman. Kids can arrange the pieces of felt on the rectangle over and over before gluing them in place.
More ways to build and create with Christmas theme
Pompom Christmas Shapes Activity