Adventures in Winter Science Outdoor Play
Enjoy outdoor winter play with these simple science activities. The free printable provides inspiration for outdoor activities in the snow. Support creative thinking and observational skills with hands-on fun in the snow.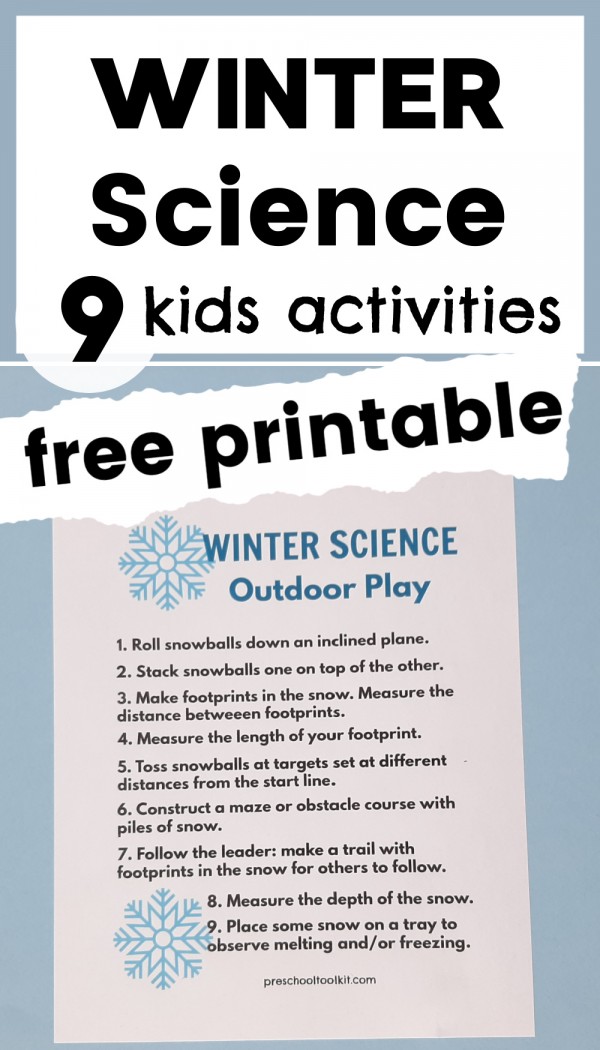 Privacy and Disclosure
for information on cookies and affiliates
Winter is a fun season to explore weather with early learners. Changes in temperature and precipitation, and even wind, provide lots of opportunity to exercise observational skills. A cloudy day brings a steady snowfall; a sunny day feels colder with a bristling wind.
Look at the sky: are the clouds grey or white?
Look at the trees: are the branches waving?
Look at the ground: are there slushy snow puddles on the street or sidewalk?
Take a walk through the neighborhood. Can you see icicles hanging from a tree branch?
Use binoculars from the comfort of your home to study conditions outside a window. Is the wind blowing the snow into snowdrifts?
Provide simple hands-on activities for kids to experience snow - how it moves, how it can be shaped.
Build, measure, plan, observe! Grab the ideas in this post to explore winter.
Download the free printable to get started with some fun winter science!