First Day of School Books for Preschoolers
Read books together to help your preschooler look forward to first day of school. Stories and pictures can help calm back-to-school butterflies, and prepare kids for the big event.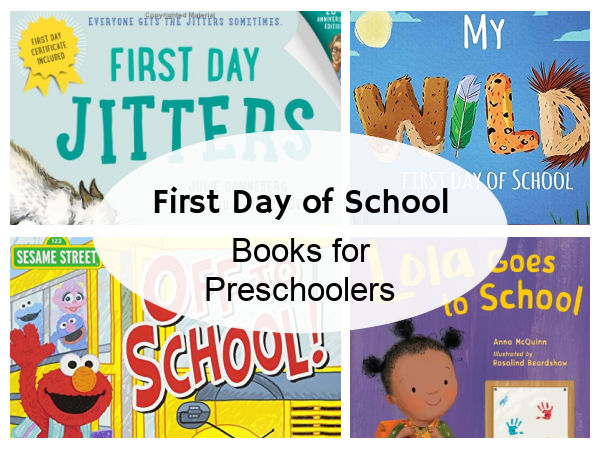 Privacy and Disclosure for information on cookies and affiliates
Has your preschooler started asking questions about first day of school?
What will I do at school? Can I play?
What if I don't know anybody?
What if I'm nervous or scared?
Whether your child is starting preschool for the first time, or entering a new class in the second year in kindergarten, there's probably going to be big emotions around the event.
Start the dialogue early. Initiate conversation when doing daily activities.
Baking - Do you think this would be a good muffin for your lunch?
Shopping - Will we buy crayons or markers for your backpack?
playing - Let's build a school with the blocks.
Give kids lots of opportunity to ask questions, to express their doubts and fears, as they try to imagine this new experience.
You don't have to answer all their questions, or satisfy their curiosity. But you can share their concerns and challenges by listening to them, acknowledging their feelings, and by reading together.
Books about first day of school
Reading together helps you and your preschooler explore new experiences - like back to school - and strategies for coping with these new events.
This list of books encompasses many of the thoughts and feelings kids have as the first day of school approaches.
There are books that acknowledge first day jitters, books about kindness and friendship, and books that explain what happens all day at school.
Start reading before the big event to help your preschooler understand what 'school' can be like, and put the wonder and adventure into school days.
Her colorful backpack is ready for first day of school, but is Rosie ready? On the first morning of school she has butterflies! See how the butterfly- in-the-stomach feeling becomes a good thing for Rosie and her friends.
Sarah is soooo nervous about going to a new school. The surprise ending will not only make you laugh, it will make you feel a little better about your own first day jitters.
Brother Bear has already attended school but for Sister Bear, kindergarten is new and a bit scary. She's used to begin home with Mama and Papa. What will she do at school? Will she like it? Join the bears on the first day of school to get a glimpse of their school day.
Discover the many different ways the animals showed up for the first day of school. What will by your passion on your first day of school?
Lola discovers there are lots of choices at school. Will she read a book? Be a superhero? What choice would you make on your first day of school?
School is cool! This story highlights all the fun things preschoolers can look forward to with their classmates. Read, and count, to learn about the cool school.
Read the sing-song text just like the 12 Days of Christmas. Countdown from twelve to one as you discover what can happen at your new school.
Your favorite Little Critter character invites you into his classroom for a look at his first day of school. From new clothes to old friends, get a glimpse of Little Critters first day activities.
This fun, interactive book takes kids along with Elmo as he enjoys his first day of school, even with the jitters! Readers can do all the things for Elmo that make him feel better about first day of school.
This list of books is just the beginning of your adventure. Together you can read the wonder, the little bit scary, and the magic of first day of school!
Find more back to school titles in your local library or book store.
Visit our book board on Pinterest for more reading ideas with preschoolers.