Bird Nest Preschool Craft with Mixed Materials
Preschoolers can learn about birds and their habitats while designing and building a simple bird nest. This bird nest activity is a fun way to explore and create using mixed materials.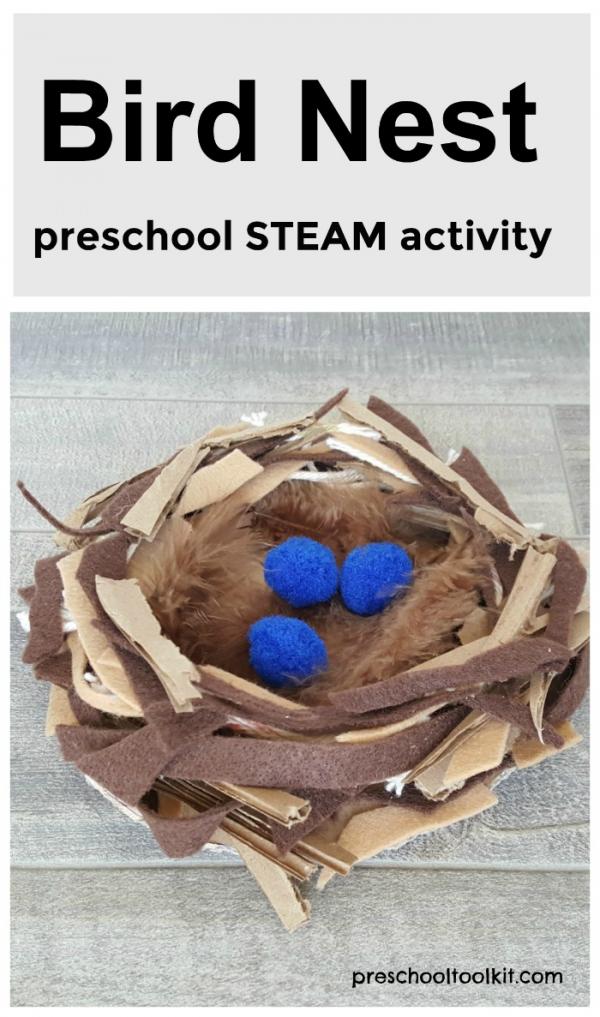 This post contains affiliate links. Privacy and Disclosure
Spring is a fun time of year for crafts and activities. The sights and sounds of new things growing and warm winds blowing invite us to shed our heavy winter clothing and enjoy the new season.
Exploring birds and nests is a fun part of spring activities.
Take nature walks, hoping to spot a bird nest in a tree.
Read books about bird nests and how birds care for their young.
About Birds: A Guide for Children by Catherine Sill
The Best Nest by P.D. Eastman. (Look for this book on YouTube!)
This activity is a great addition to your spring theme. Kids can experiment with building a nest that is able to hold pompom 'eggs'.
Here's why this is a STEAM activity:
STEAM = science + technology + engineering + art + math
Science: gathering information about bird's and the nests they build
Technology: gluing the nest materials together
Engineering: planning and building the nest
Art: combining different colors and textures
Math: determining the size of nest and number of eggs in the nest
Related : Bird Nest Made With Burlap
Supplies
felt
cardboard
yarn
string
feathers
pompoms
You can easily use other craft items that would add texture and interest to this project.
Materials such as felt, yarn, cardboard and paper, can be cut beforehand into small pieces or strips.
Disclaimer: This activity is not intended to be used as an actual bird nest (string/yarn can be dangerous for birds).
Allow time for kids to explore the materials before beginning the activity.
Instructions
1. Cut out a cardboard circle to serve as a base on which to build the nest.
This cardboard circle will also be useful for transporting the bird nest.
2. Spread glue along the outer edge of the circle.
NOTE: Before adding the glue, kids can add and remove pieces to experiment with how the finished nest will look. The materials hold together well enough for kids to stack and shape the bird nest.
Experiment with the size of the nest, which materials to use, and the color of the eggs to place in the nest.
3. Begin layering materials onto the circle, adding a row of glue between rows of materials.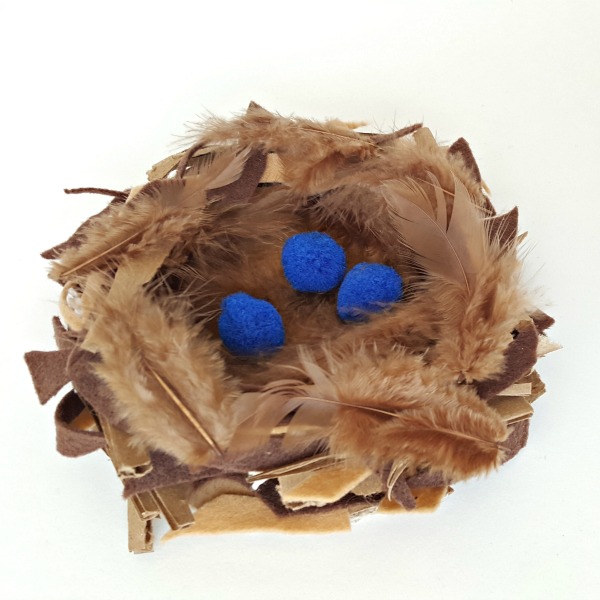 4. Line the inside of the nest with feathers. Use different colors or a single color like these fluffy brown ones.
5. Place pompoms inside for birds eggs. We chose blue for robin eggs.
This activity is an easy way for kids to explore and experiment with a variety of materials. The different colors and textures provide interesting sensory play along with promoting the use of fine motor skills.
As they experiment, kids will integrate the principles of STEAM through hands-on learning.
STEAM KIDS: 50+ Activities
(aff.)
Craft Stick Catapult from STEAM KIDS