Easy Bird Nest Craft using Burlap
Spring is a perfect time of year to explore birds and their habitats with your early learner. This bird nest activity provides an opportunity to talk about where birds live, what they eat, and how they build their homes.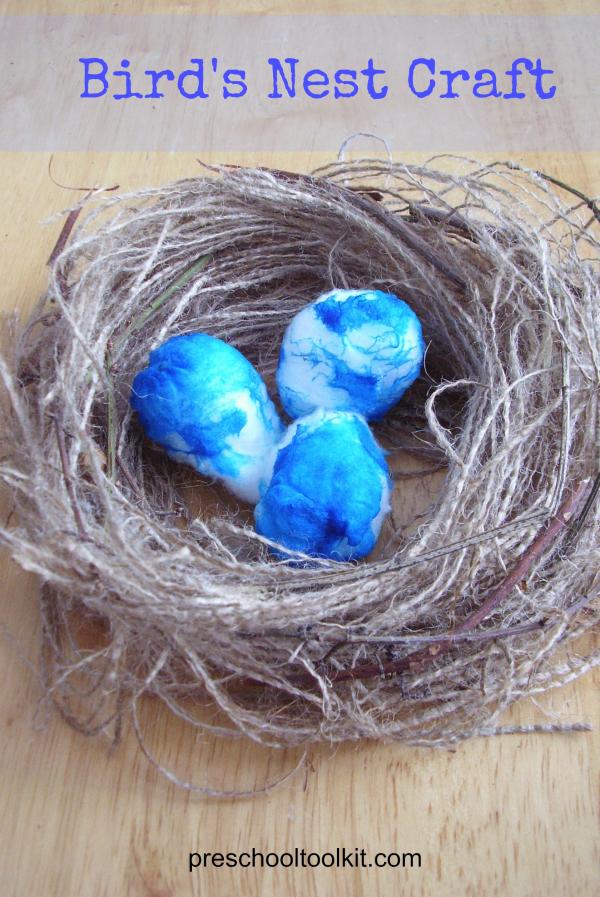 This post contains affiliate links. Privacy and Disclosure
In this activity, kids can experiment with making a cozy nest for some beautiful blue 'eggs'. The textures and colors of the materials support sensory and fine motor play as create a nest.
I've added a Bird and Nest Unit at the end of the post so you can easily add to a spring theme.


Bird nest burlap craft
Have you ever spotted a bird's nest in a tree? Maybe you've been lucky enough to catch a glimpse of the young leaving the nest for the first time!
Plan a nature walk to look for signs of birds guarding nests in the trees or under shrubs. If natural environment is not an option, there are lots of books and videos available to explore birds and their nests.
A field trip can be part of the fun for kids as they explore bird habitats.
Supplies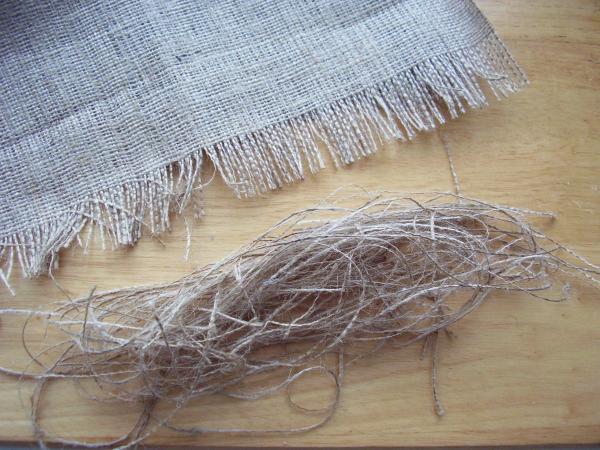 burlap fibers

paint

cotton balls
I often do crafts with burlap which require the sides or ends of some pieces of burlap to be frayed. This leaves me with a nice pile of burlap threads.
Related: Burlap Fish Craft
Instructions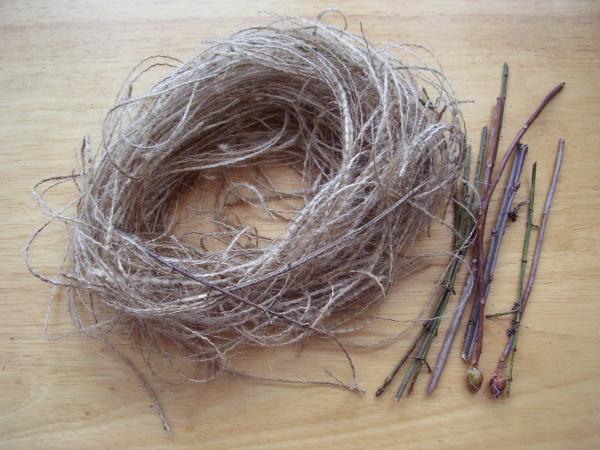 When I picked up a small clump of burlap threads, then dropped them, they fell naturally into the shape of a bird's nest in my hands. This gave me the idea for the bird's nest craft.
You can prepare a supply of burlap threads for the project beforehand, but also provide children with the opportunity to pull some threads from a piece of burlap.

Children can grasp a handful of burlap threads and shape them like a soup bowl for the nest.
Provide some twigs and grasses to intertwine with the burlap.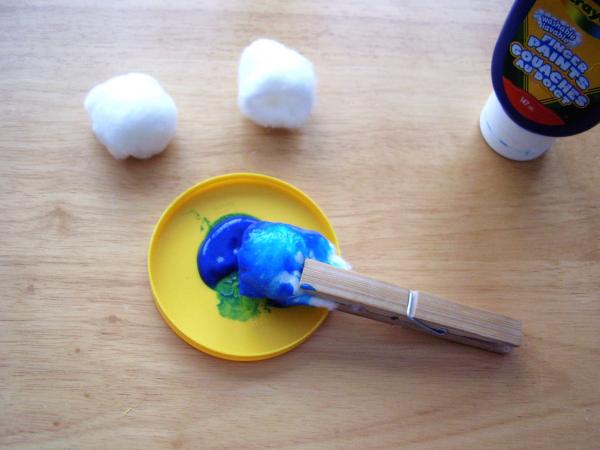 Dip cotton balls in blue paint to make the eggs. Allow to dry and arrange in the nest.
You can create a bird's nest and eggs to explore a family unit in nature. Even if you can't observe an actual nest, you can have fun with books, arts and crafts, and other visuals to explore, discover, and create.
This is a fun craft for kids that can be used for a spring theme.

Bird and Nest Thematic Unit
1. Activities
Discussion
Robins instinctively know how to build a nest that is soft enough to cradle the eggs but strong enough to hold the baby birds once they hatch and start to grow.
Robins must find a site that is protected from the weather as well as predators, as they fly off to find worms for the young birds to eat.

Finger Play
Here is a nest for a robin (cup hands together in a bowl shape)
Here is a hive for a bee (touch wrists and fingertips together,palms facing each other)
Here is a cave for a bear (crouch and cover head with arms)
And here is a house for me. (arms overhead in a "V" with fingertips touching)

Song
Robin in the Rain (by Raffi on YouTube)
2. Books
3. Crafts
Bird Nest Fine Motor STEAM Activity
Bird Nest in a Tree Painting Activity
Roundup of Bird Nest Activities