How to Organize a Craft Box for Easy Art Activities with Kids
A portable craft box can help you enjoy stress-free arts and crafts activities with the kids. Keep supplies organized and ready so setups and cleanups are quick and easy. Check out these tips for creating a go-to craft box that promotes creativity, not chaos.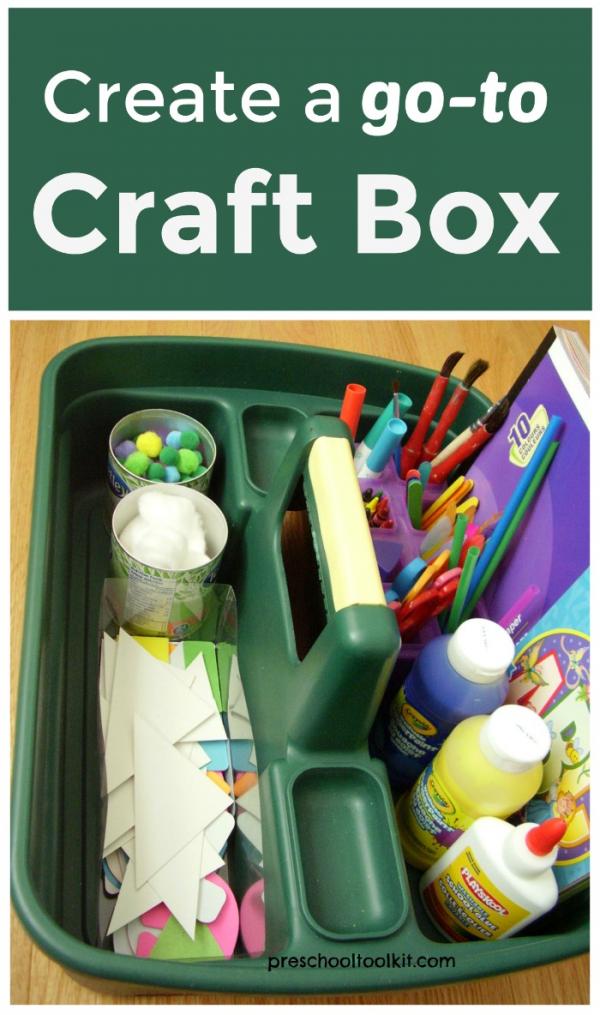 This post contains affiliate links. Privacy and Disclosure
Organizing a few basic supplies with a craft box is a great way to minimize the stress while promoting creativity and optimizing set up and clean up.
It's easy to put a craft box together that will support open-ended art activities with preschoolers.


Go-to craft box
Does the thought of crafting with the kids sometimes make you cringe? The idea of lugging supplies out of a closet or drawer, making numerous trips back and forth to gather everything together.
Not to mention.....
Do we have time? Will it make a mess? Where are the kids scissors?
This post hopes to assist you with a simple solution for providing art experiences.
Benefit of art experiences
First, let's look at why supporting kids art experiences is always a great idea. Arts and crafts opportunities promote the growth of developmental skills including fine motor, cognitive, language, and, of course, creative.
Kids learn to take care of materials, to set up and clean up, and to experiment with different art techniques.

Kids learn from social interactions doing projects with other children. They learn cooperation, taking turns with supplies and providing creative suggestions.
Related: Kids Own Craft Box


Having craft supplies on hand allows for spontaneous crafting times, as well as opportunities for hands-on learning at home or in the classroom.
The activities you provide do not have to be complex, requiring step-by-step instructions or a detailed list of craft supplies. Simply having paper and crayons within easy reach at all times is a positive way to promote a creative opportunity.

Benefit of a go-to craft box
Organizing a craft box is a helpful solution if:
you have limited space to store supplies
you want more control over craft time, especially to introduce or practice a skill or other learning opportunity
you are engaging with younger children with limited independent access to craft supplies
you want to add messy materials such as paint and sequins
Here are a few suggestions to jump-start awesome crafting experiences!


How to prepare a go-to craft box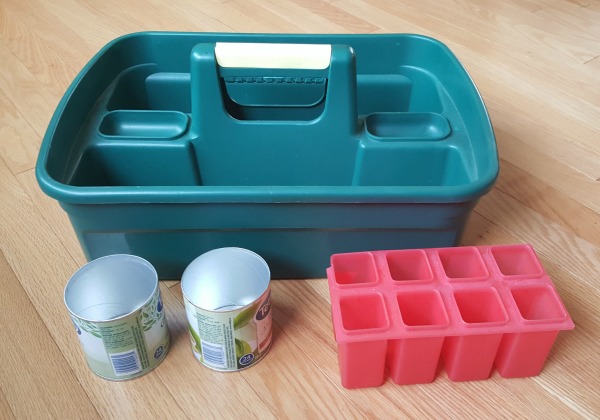 Start with a divided tote or storage box, maybe a tool box or tackle box. A box with sections will help organize the materials.
Add additional dividers such as empty containers or a frozen treat maker to further separate small craft items.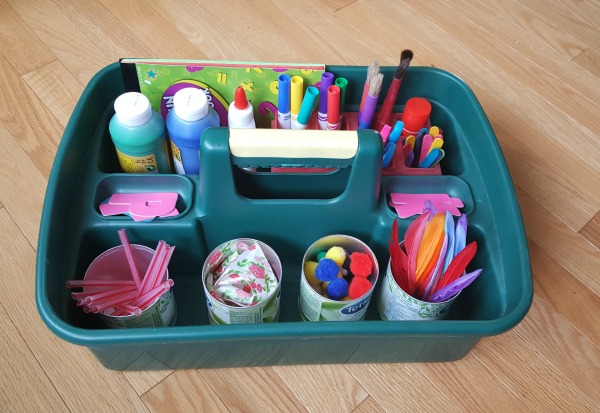 The size of the craft box and the dividers will be determined by the size and quantity of the items you want to provide for everyday art activities.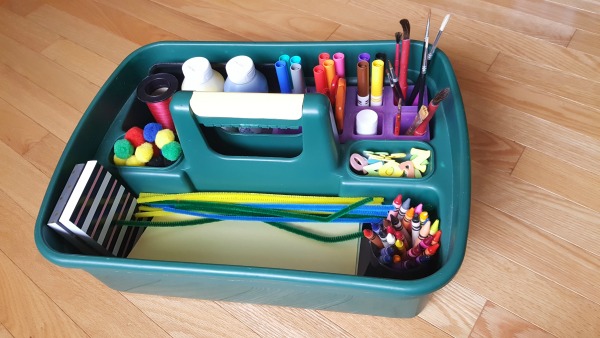 Fill the craft box with basic supplies such as paper, scissors, crayons, markers, and glue.
Keep supplies to a minimum so both you and the kids are not overwhelmed. Replenish supplies as needed and introduce a variety of new items from time to time.
Supplies for a go-to craft box
Here is a list of basic supplies:
paper
scissors
glue sticks
crayons and markers
pompoms
chenille stems
craft sticks
stickers
paper straws
paper shapes

Supplies such as paint, glitter and play dough can be introduced on days that allow for more time to prepare and clean up, or when you want to provide other hands-on learning opportunities.
If your craft box is large enough, you can add all the items you want to use in an art session, otherwise store additional items on a shelf or in a closet. Rotate items in the craft box to add interest and art prompts.
Replace items in the craft box as they are depleted.
Keep a drop cloth and clothing cover-up - such as an oversize t-shirt - in the craft box, or at least nearby, to protect clothing.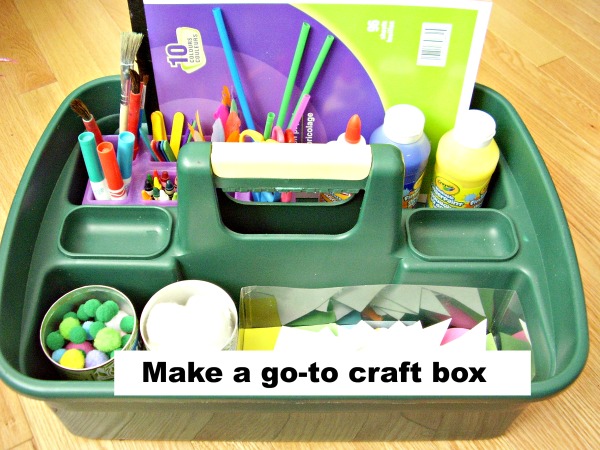 Early learning classrooms often have art supplies available and accessible on a shelf or in a cupboard for free time creative opportunities. While this is optimal, parents and care givers can offer amazing art experiences with the creative use of space and containers, and some basic organization.
Enjoy your creative time with kids!