Wood Blocks Math Activity for Preschoolers
Activities using small blocks of wood provide opportunities for kids to paint, sort, and play matching games. Several options are included in this post for different ages and skill levels, so everyone can have fun with these activities.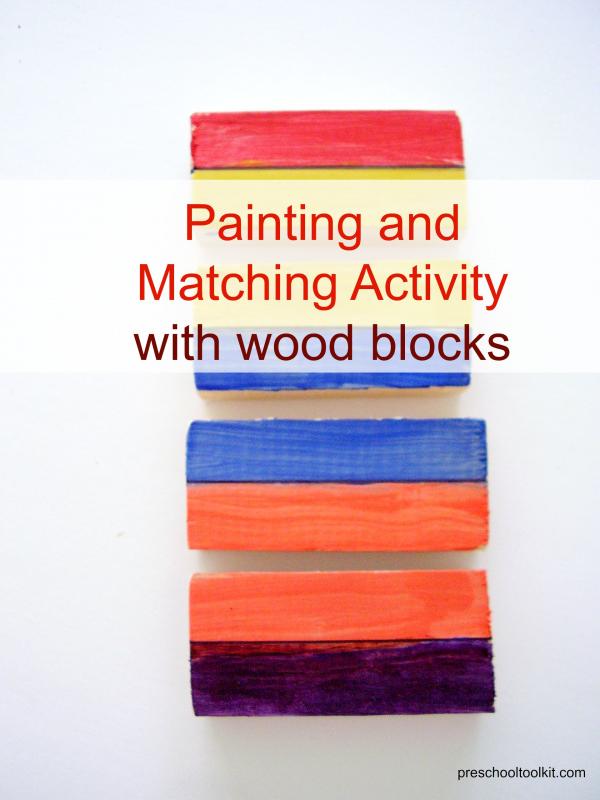 This post contains affiliate links. See our full disclosure.


Wood blocks are one of the simplest yet most beneficial options for everyday play. Natural materials like wood provide opportunities for kids to explore the world around them. With no instructions required and no results expected, they're a wonderful option for kids activities, promoting fine motor and imaginative play.
Related: Benefits of Block Play


Wood blocks are easy to store and fun to have on hand. Keep a supply accessible in a box or basket for independent play.
Along with sorting and building activities, blocks are also fun to use in painting activities.
You can easily make a set of wood blocks in a variety of shapes and sizes to start some hands-on creative play.
For an option to purchase online, these plain wooden blocks are a similar shape to the ones used in this post.
Early math with wood blocks
A few wooden blocks are fun to use in simple math activities with preschoolers. We saved scraps of wood from a renovation project. The wood can be cut into preferred sizes and shapes. The wood pieces only need some sanding to remove rough edges or splinters.
The wood blocks can be painted, or left plain and unfinished, for a variety of games and activities.
The painted rectangular blocks used in this activity resemble dominoes. These are perfect for fun math games.
Supplies
The blocks measure 1.5 x 3 inches ( 3.5 x 8 cm)
Instructions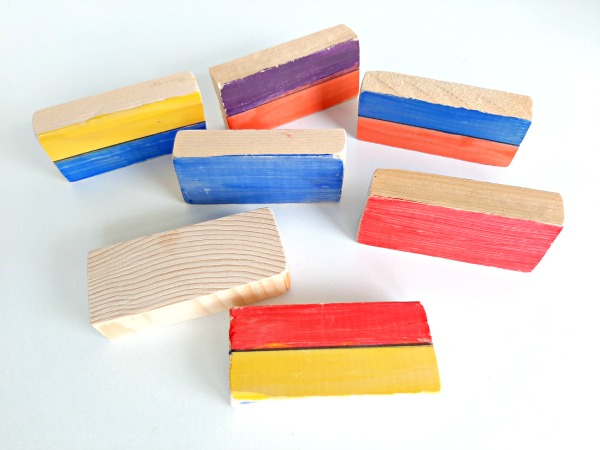 Paint some blocks a solid color.
Divide some blocks in half length-wise with a marker, then paint each side a different color.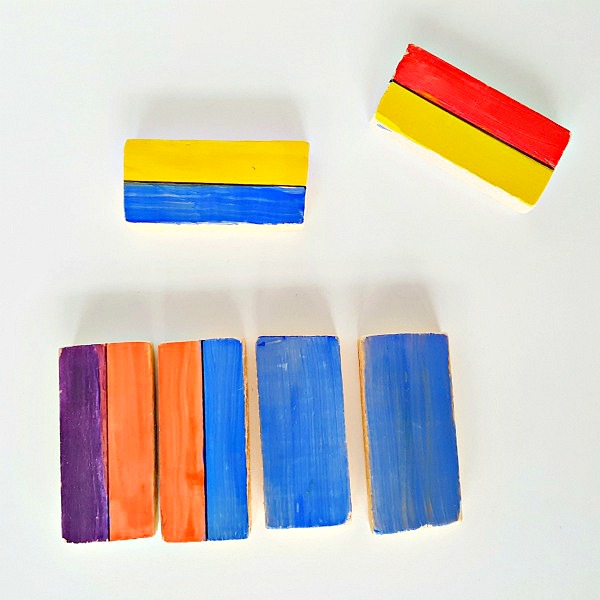 Suggestions for play
1. Sort single-color blocks by color.
2. Make simple patterns with single-color blocks such as red - blue - red.
3. Match multi-colored blocks end to end.
4. Stack blocks one on top of the other. Create towers, bridges, houses.
5. Combine single-color and multi-color blocks in a long line.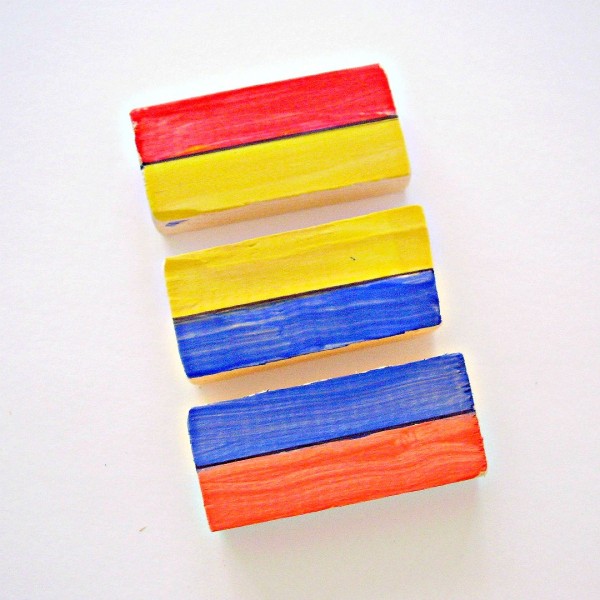 Block play supports kids overall cognitive development with hands-on learning experiences. When kids engage in child-led play they are exercising decision-making and fine motor skills as well as building imaginations!
More Painting Activities with Wood Blocks