Gift Wrapping Made Easy with an Eco-Friendly Snowman Activity
This eco-friendly snowman activity provides a fun and easy way to wrap presents without using wrapping paper, ribbon or bows. Reduce your environmental footprint while having fun building a snowman that will look great under the Christmas tree.
This post contains affiliate links. Privacy and Disclosure
We generally think of a green Christmas as one without snow. But being 'green' also refers to reducing, reusing and recycling.
In this snowman activity we suggest a fun way to avoid expensive and wasteful wrapping and trimmings.


Snowman gift wrap activity


Here are some suggestions for making Christmas just a little greener:
reuse gift bags and wrapping paper
up-cycle packaging such as tin cookie cans and shoe boxes
In this activity, we created a snowman with presents normally wrapped in boxes and gift bags!


Supplies for eco-friendly gift wrap activity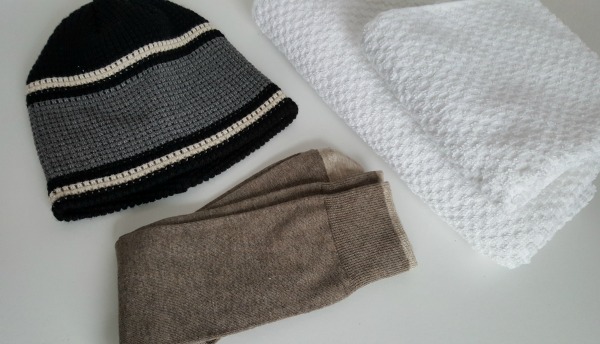 white bath towel
Supplies will vary according to the gifts you are giving. You can replace towels with white pillow cases or sheets. Even a white sweater can be used to build a part of the snowman.
All the items, both inside and out, are gifts that help build the snowman!
Instructions for gift wrapping activity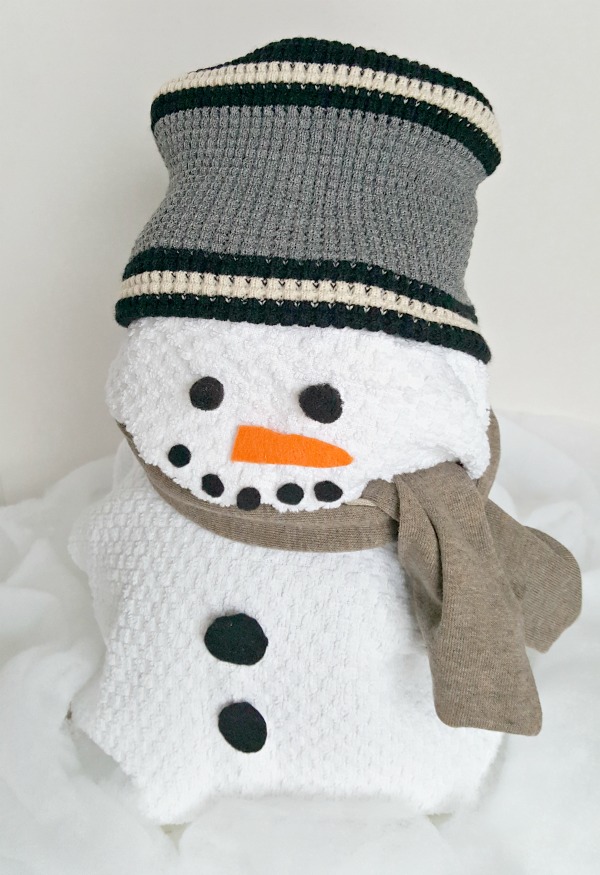 1. Wrap a large white towel around a sweater or blanket or other large soft item. Shape the bundle into a round ball for the body of the snowman.
We wrapped a large white bath towel around a sweater for the body of the snowman.
2. Wrap a smaller towel around t-shirts, facecloths or other soft items. Shape into a ball and place on top of the body of the snowman.
We wrapped facecloths inside a matching white hand towel for the head.
Since we were only using two towels for each snowman, the second bundle became the head. If you have other items to wrap you can stack three round bundles for your snowman.
3. Add a scarf and top off with a winter toque.
We joined two socks at the toes with a safety pin, then wrapped the full length around the neck for a scarf.
4. Add facial features.
We cut buttons and facial features from felt. The felt pieces stay in place on the towel without glue, so they can be easily removed when it's time to unwrap the snowman!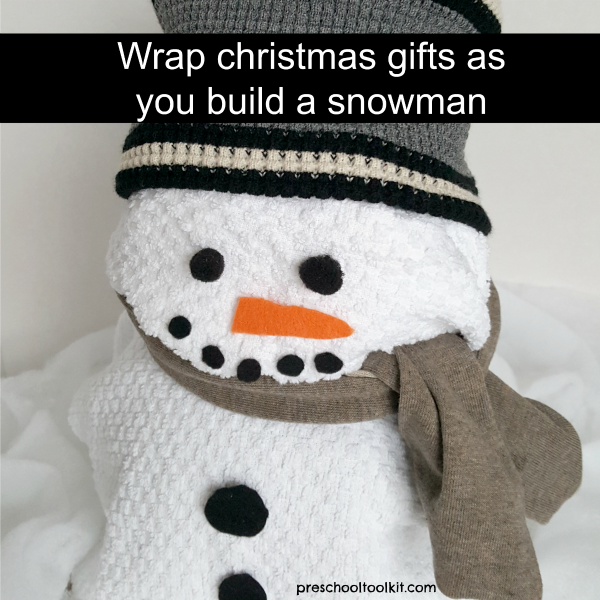 This could easily become a new gift-wrapping tradition for the whole family to enjoy. It's fun to design and create the snowman, and you'll save a lot of waste from paper and tape and bows.