Outdoor Play Ideas for Fall
Autumn is an exciting season for outdoor play with kids. It can include everything from building a tiny fairy house, to going on a nature scavenger hunt. Choose a fun activity from this roundup for you and the kids to play together outside.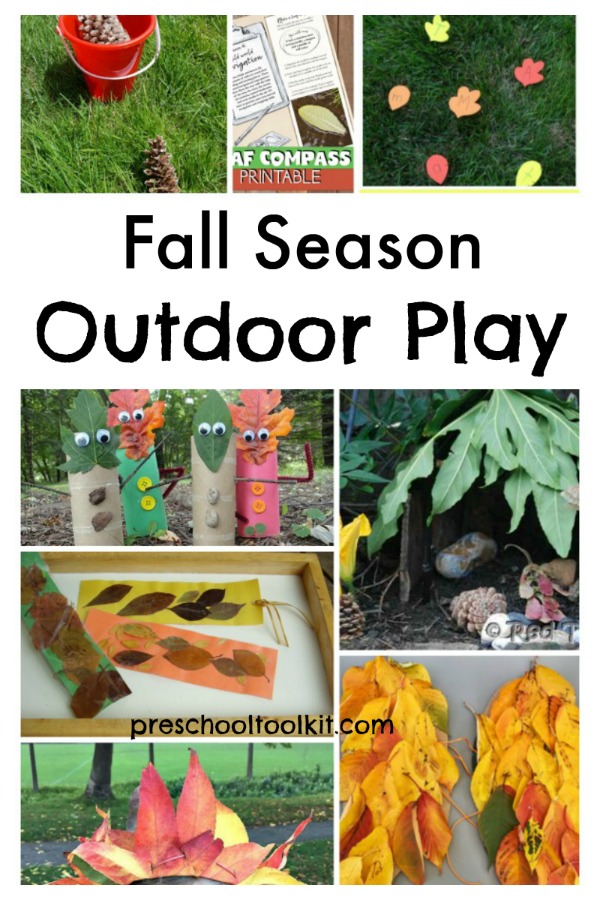 Privacy and Disclosure
for information on cookies and affiliates
What's not to love about autumn?
The colors and textures of the season are so inviting.
But maybe the chill in the air makes you feel a bit low?
Outdoor play can be fun even with cooler temperatures. Changes in nature provide lots of opportunities for exploring and discovering.
Simply pull a sweater over your summer t-shirt to be ready for outdoor adventures.
Outdoor play in autumn
This roundup of outdoor activities is geared for the fall season. Chestnuts, colorful leaves, and foods from the fall harvest are all waiting to be explored.
Enjoy a nature walk, make leaf puppets, and follow a pine cone trail! These are just some of the ideas you'll find in this list of outdoor play ideas for fall from a group of experienced kid-friendly bloggers.
Three categories provide: GAMES - CRAFTS - SCAVENGER HUNTS.
Activities and Games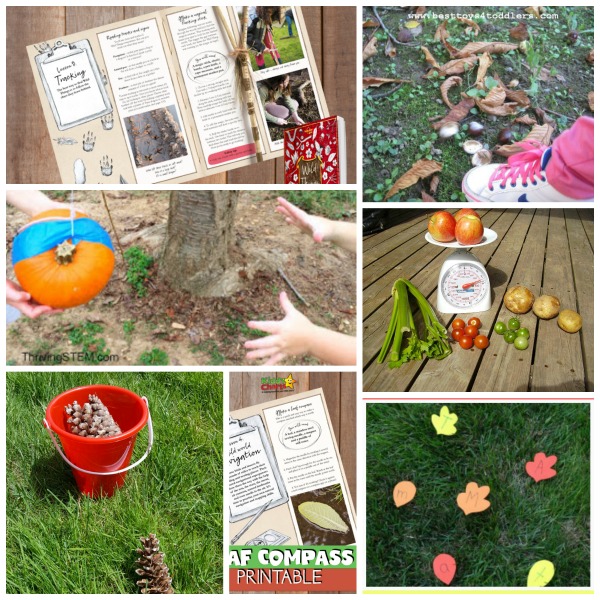 Explore the environment with a magical tracking stick from Kiddy Charts.
Enjoy a hands-on activity with chestnut sensory play in this outdoor play idea at Best Toys for Toddlers.
Celebrate the fall harvest with harvest activities here at Preschool Toolkit.
Set up a scavenger hunt outdoors with letters on paper leaves like this one at Growing Book by Book.
Join Kiddy Charts in an outdoor science activity with a leaf compass.
Follow our outdoor pine cone trail.
Outdoor science using pumpkin engineering is an activity from Thriving Stem.
Get the whole family together for outdoor fall family activities at 3 Boys and a Dog blog.
Enjoy an outdoor walk with the help of five senses walk with printable from Great Family Reads.
An outdoor literacy alphabet leaf activity from A Dab of Glue Will Do is fun learning through play.
Take the fun and learning outside with outdoor activities from Take Them Outside.
Crafts
Inspire creative play with fall leaf finger puppets craft at Crafts by Amanda.
Make a fairy house like this one from Red Ted Art.
Child size fairy wings from Daisies and Pie support imaginative play.
Wear a leaf crown from Red Ted Art for more pretend play.
Support reading and early literacy with leaf bookmarks craft here at Preschool Toolkit.
Scavenger Hunts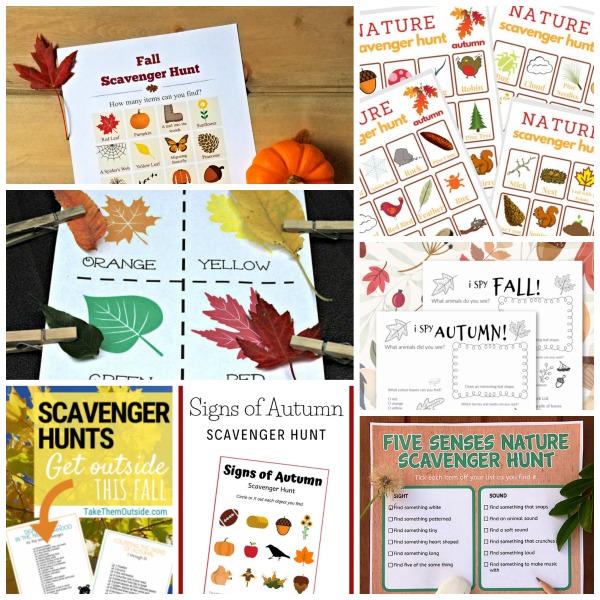 Explore the natural environment with a fall scavenger hunt at Edventures with Kids.
There's so much discover outside with this nature scavenger hunt at Organized 31.
Play I SPY with Nurturestore's printable autumn treasure hunt.
Kids can use their senses for this nature hunt with the five senses from Childhood 101.
Discover the signs of autumn with this printable from Muddy Boots and Diamonds.
There's so much to see in autumn with fall scavenger hunts from Take Them Outside.
Early learning is supported with a fall leaf hunt math activity from Edventures with Kids.
Bundle up in a cozy sweater to enjoy what autumn has to offer.
The season is so much more than chilly morning air!