Cardboard Keyboard Preschool Activity
A pretend keyboard is easy to make for playtimes with toddlers and preschoolers. This is a fun way for kids to practice number and letter recognition. This cardboard laptop craft supports fine motor play and early literacy in a hands-on learning activity.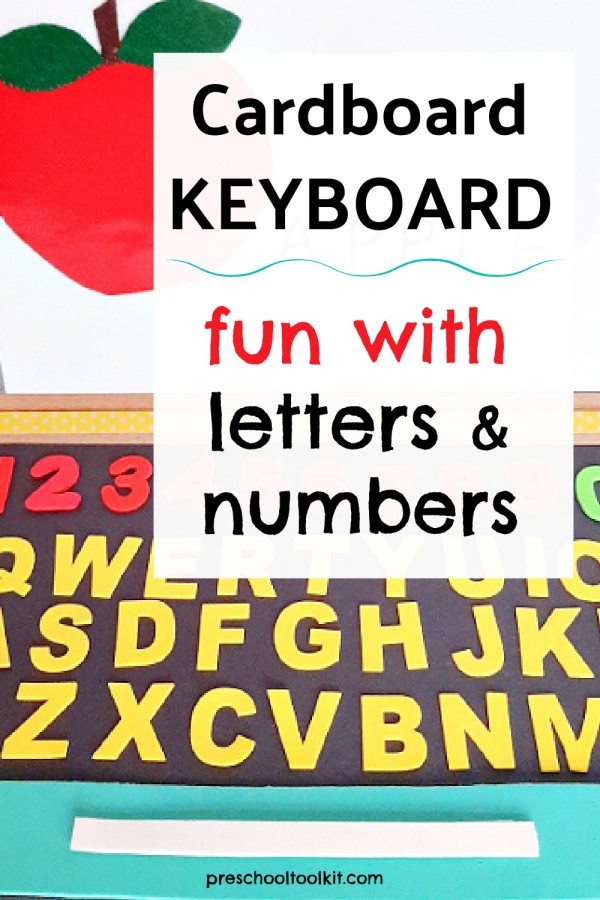 Privacy and Disclosure
for information on cookies and affiliates
Kids will love pretending - and learning - with this cardboard keyboard. Awesome color and texture invite preschoolers to try it out! The sensory play is an added bonus to the early learning skills that are offered with this activity.
Hands-on learning is the best way to support early childhood skills such as fine motor, language and math. This cardboard computer is fun way to provide literacy and math activities for early learners.
Using recycled items makes crafts and activities affordable and easy to provide without a trip to the store for materials. Save pieces of cardboard from cereal boxes or other packaging for everyday play activities like this keyboard craft.
Cardboard keyboard craft
This activity is easy to set up with cardboard and self-adhesive foam letters and numbers. The letters and numerals are positioned to represent an actual computer, providing a real life experience with everyday play.
Options are provided for making this craft with ether a sturdy piece of cardboard or a thin cardboard box.
OPTION 1

Single piece of cardboard


Supplies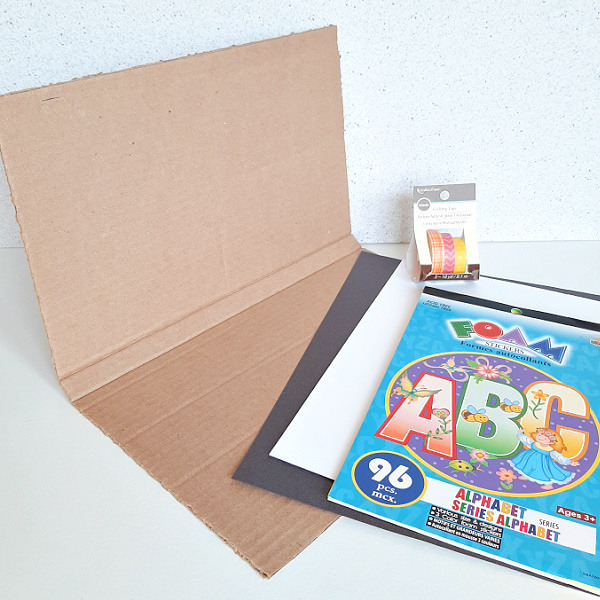 Glue
Craft tape (optional)
Resealable plastic bag or plastic sheet
Cardboard
Cut out a piece of recycled cardboard with a hinge-like bend in the middle like the one in the photo. This piece already had the bend when I cut out the piece, but you can bend a piece of cardboard in two places to replicate this.
This cardboard measures 12 in. x 16 in. ( 31 cm x 41 cm ), with a 2 cm. "hinge" area in the middle.
Options
If you don't have foam letters and numerals, use a permanent marker to add these to the cardboard.
Use markers or crayons or other trim instead of craft tape to decorate the hinge area.
Instructions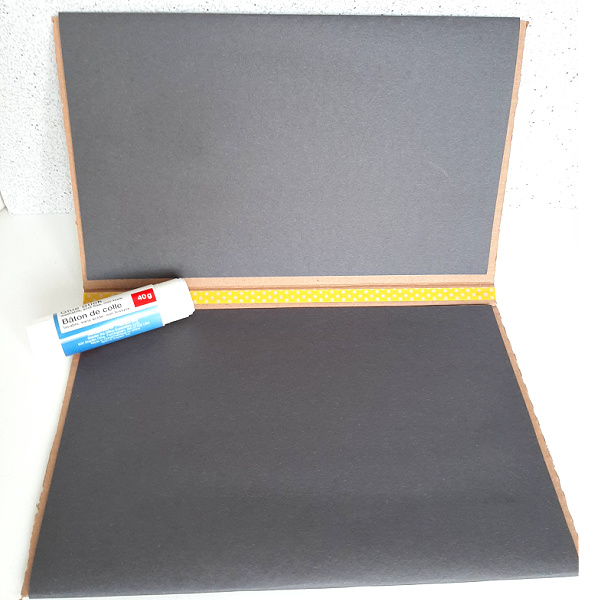 Glue black construction paper to the top and bottom portions of the cardboard.
Apply a strip of washi tape or other paper or trim to the seam or hinge area where the laptop closes.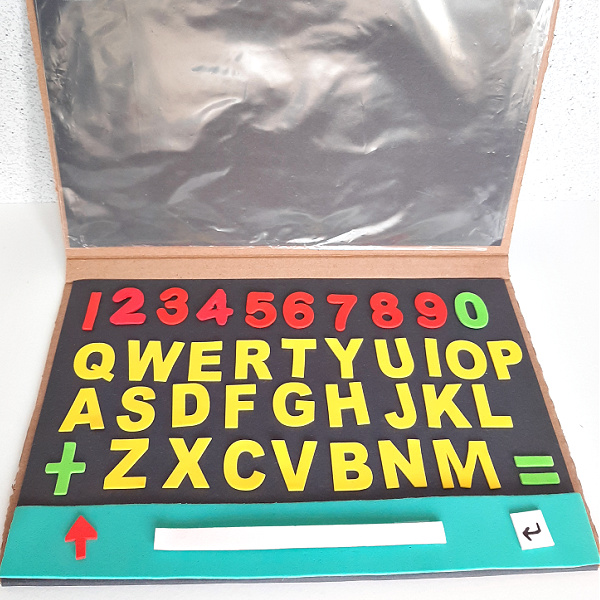 Tape or glue a piece of plastic or a large resealable bag to the top portion of the laptop. This holder is where the "images" you create will be placed to emulate the computer screen.
Place the letters and numerals as they appear on an actual keyboard, which is appropriate for learning the letters as well as the positioning.
Encourage creativity with the design of the keyboard, with input from your child. Add characters your child recognizes or chooses to have on the keyboard. Use of capital letters is supported by early childhood educators for early letter recognition.
While this computer is basic black in appearance, it's fun to design an original laptop with unique colors and materials. Scroll down to see the colorful laptop we made with a cardboard candy box.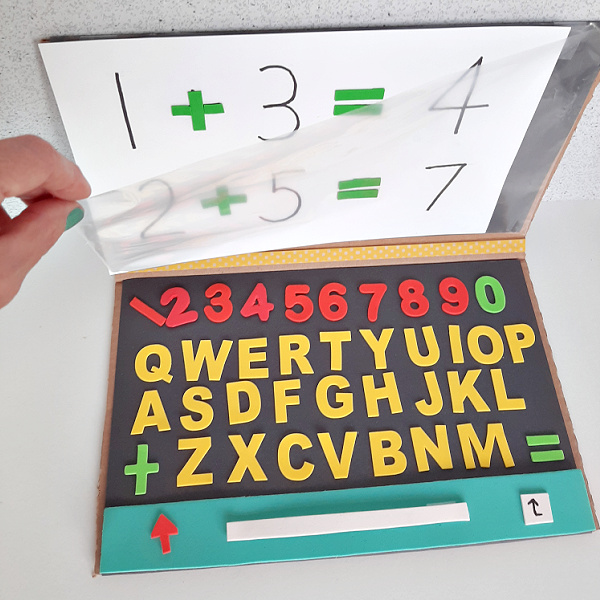 Create a design on a sheet of paper. Cardstock is a heavier paper that stands up better than copy paper. Slip the paper inside the plastic. Make large bold letters and numbers your toddler or preschooler can reproduce on the keyboard.
Your child's printed name is often a great place to start the fun and learning.
Part of the activity is creating the artwork which will be placed inside the plastic sleeve. Encourage your child to print letters and numbers on a sheet of paper to insert into the laptop screen holder.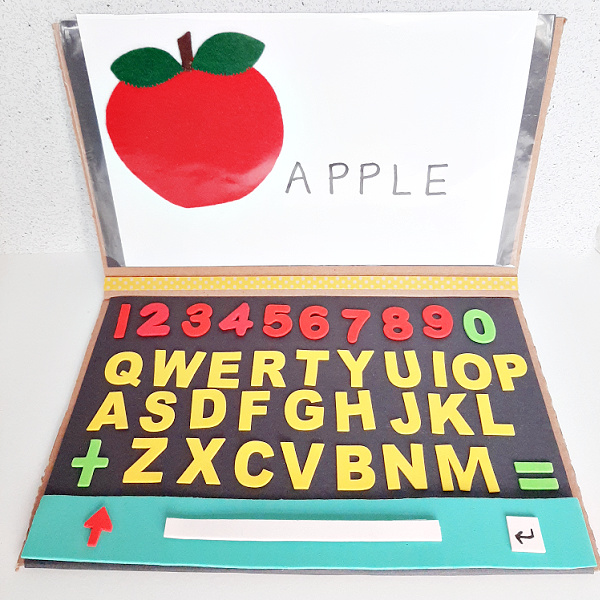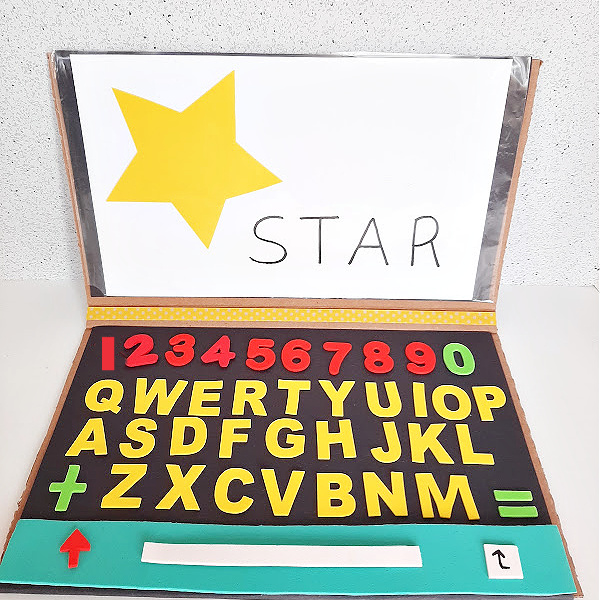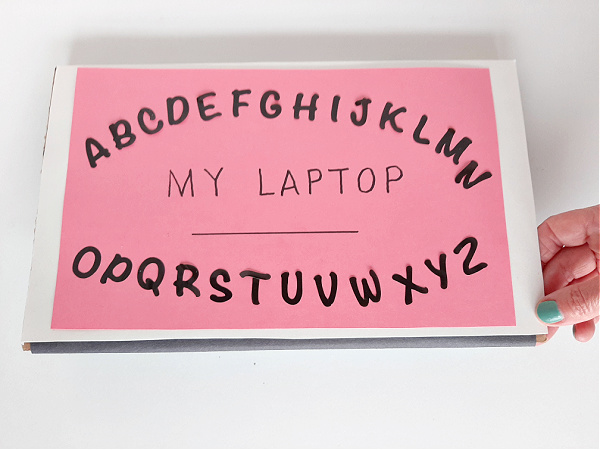 Decorate the lid of the laptop. Add your child's name.
OPTION 2
Cardboard box


Supplies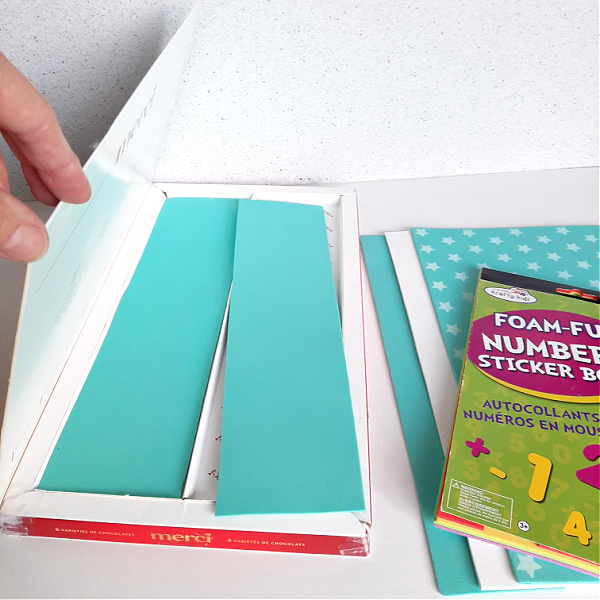 Cardboard box with lid attached
Craft foam sheet
A flat box like this candy box is similar to the size and shape of a regular laptop.
Line the bottom of the cardboard with a spongy material like craft foam or thin chair foam. The material should be thin enough for the lid to fold down but it doesn't have to close firmly or tightly.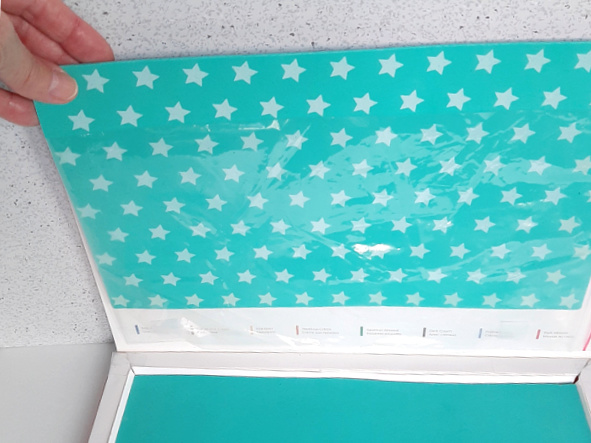 Tape the plastic sleeve to the top portion. Insert a piece of decorative foam to complete the design of the laptop.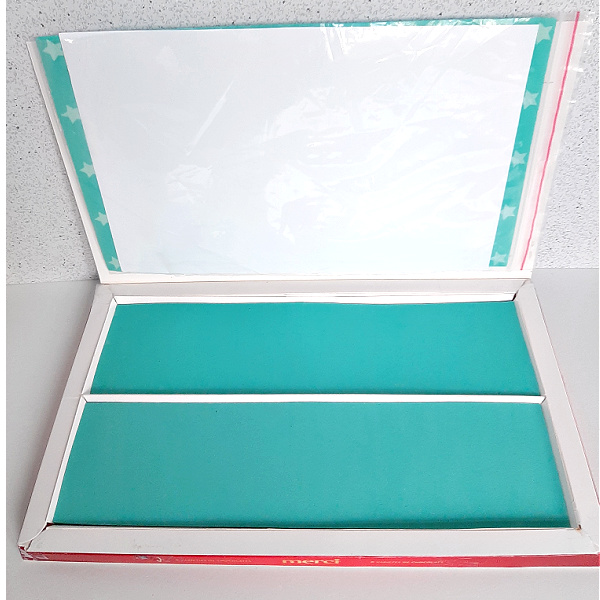 The piece of paper you use for the screen image will be inserted into the plastic sleeve on top of the foam.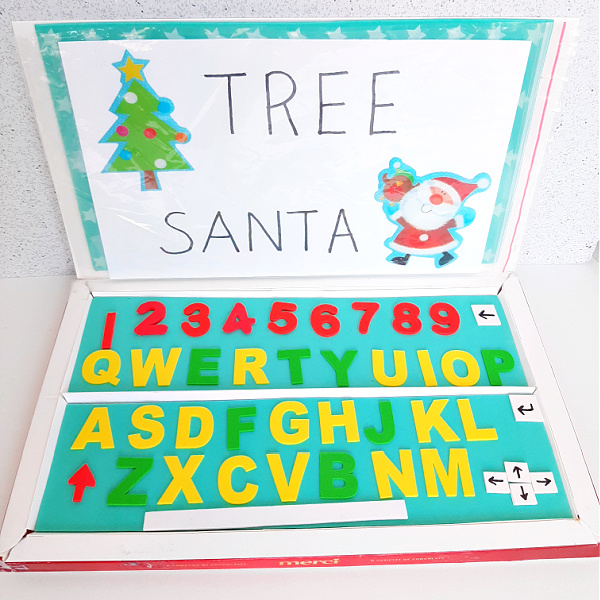 The creation and use of the keyboard will be unique to your child's imagination and creativity as well as skill levels.
Provide this activity for some hands-on experience with letters of the alphabet and numerals. Kids can learn to recognition and name these symbols as they play.