Planning Quality Content for Your Early Learning Program
Planning daily activities for your early learning program can be exciting as well as challenging. Here are a few ideas that will help make your job easier and ensure quality content for your early learners.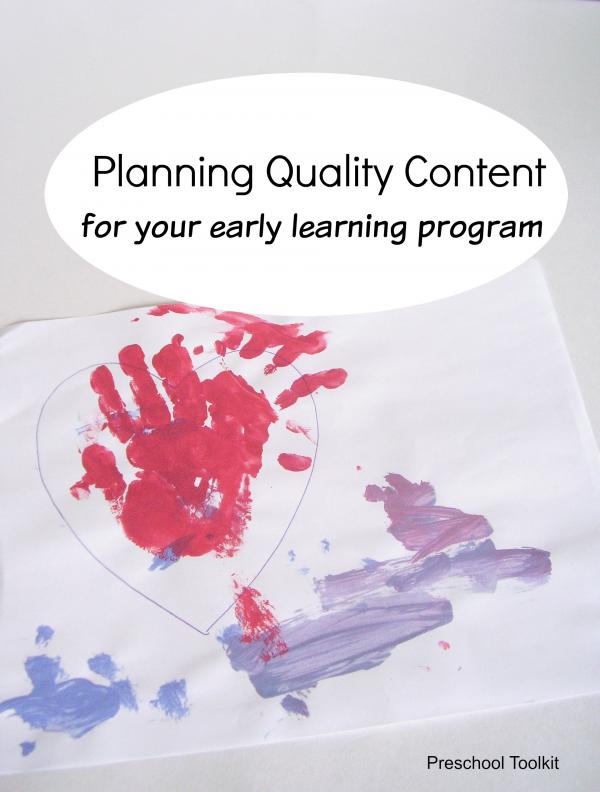 This post contains affiliate links. Privacy and Disclosure
This article discusses ways you can design a functional environment with appropriate content that supports early education.
This is the fourth and last post in a four part series: Developing an Early Learning Program.
Part 4. Planning Quality Content for Your Early Learning Program
In this post I offer some tips on ways to provide activities that are age-appropriate and skill-related.


Planning quality content for early learning programs
An early learning program best nurtures developmental skills as children simply play. The activities you choose should be fun and hands-on, so kids just naturally want to join in!
The program you provide is supported by the activities you deliver as well as the environment in which you play and learn.
Let's start with a look at the environment.
Examples of routine areas that encompass early learning activities
Divided areas in your home or classroom will provide a unique environment for the program you provide your early learners. Specific areas will help you determine the kinds of activities you want to incorporate on a daily basis.


1. Circle time or small group is the time of day in the program when children gather in a comfortable setting with the teacher to engage in planned activities such as: reading stories; singing songs with finger plays; matching colors or shapes on the felt board. This area is often determined by small mats or chairs with participants seated in a circle or semi-circle.
Related: How to provide a welcoming circle time from Preschool Inspirations.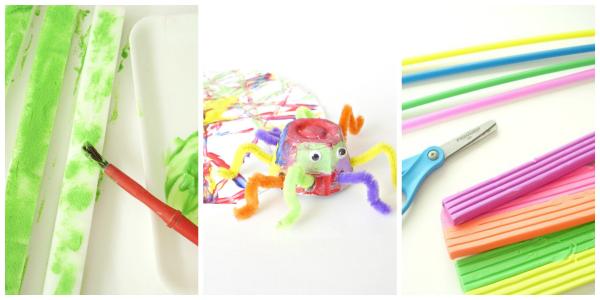 2. Arts and Crafts sessions are opportunities for drawing, painting, cutting, gluing and creating with a variety of materials such as construction paper, glitter glue, colorful feathers, pipe cleaners and modeling clay. This area often includes a table and chairs for working with materials, and storage options nearby for craft supplies.
Process art is a term applied to art activities with a goal of making each activity less about following step-by-step instructions and more about following the child's creative lead. Teachers and parents can engage with kids by using open-ended questions and comments such as:
I see you chose the red crayon to color your house.
Are you going to cut out leaves for the tree?


Related: Flower craft process art activity


3. Gross motor activities incorporate large body movements such as jumping, swinging arms, and stretching.
Indoors, play bean bag games, balloon volleyball or ring-around-the-rosy.
Outdoors, make use of balls and skipping ropes, relay races, parachute games and playground equipment.
This area requires enough floor space or outdoor space for kids to move around.
Related: Outdoor backyard play ideas


Games will generally be non-competitive and open-ended, although kids may want to add their scores in a game of toss or run races in the backyard.

4. Free play or independent play allows children designated times of day to engage with a variety of areas in the classroom. These are individually themed areas, often physically defined by shelves, furniture or mats, and are often called stations, centers, or corners.
During free play, kids can plan or participate in activities such as: "building bridges" in the block corner; "cooking breakfast" in the housekeeping corner; "digging up fossils" in the sand box; painting "clouds" at an easel in the art center.
Related: Pop over to PreKinders to see a more detailed discussion of center time.
Related: Fun-A-Day explains what centers are and why they are important.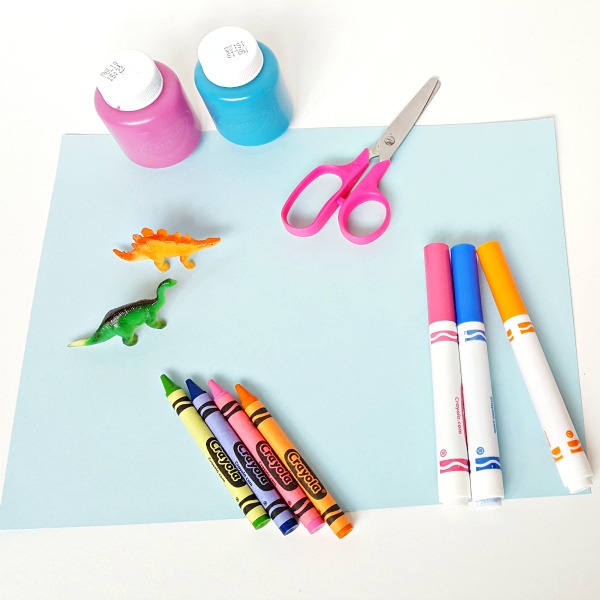 Planning Quality Content
How can I make optimal choices for planned activities?
Before deciding to include an activity, consider issues specific to your environment such as:
Is there enough space in the room for kids to leap-frog over cardboard lily pads on the floor?
Does the story book have large colorful pictures that everyone in the circle can see?
Are there options for different ages and skill levels in the art or craft project you have chosen?
Do centers promote independent thinking and creativity?

Choose activities that are age-appropriate as well as suited to the interests of the children in your care.

Often homes and classrooms have a range of ages and skill levels so activities are chosen to fit a broad demographic. Example: Read a book during story time such as Sadie and the Snowman
by Allen Morgan, then provide materials for an open-ended art activity.
As the children gather around the art table, ask what type of weather they saw in the story. Rather than instructing children to "cut out a yellow circle for the sun", provide scissors, crayons and construction paper, then guide them through discussion and feedback as they draw or glue materials on a sheet of paper to make their weather pictures.
Choose activities that encourage play.

Regardless of age or skill levels of the children, or available space and materials, the goal is to provide opportunities for children to experiment, explore and make discoveries while participating in both group and independent play.
Include a variety of toys and materials in your play spaces: a water table with funnels and strainers; an easel with paints and smocks; a puppet theater with kid-made puppets. These are all materials that promote learning through play.
Improvise a puppet theater with a cardboard box, and make a sandbox by pouring play sand into a large plastic bin on the floor. These examples illustrate the variety of activities that go into making a well-rounded program.
Many teachers adopt a weekly or seasonal theme The centers or stations are stocked with props that reflect a certain topic. Dress up clothes include a fire fighter hat during fire prevention week; dinosaurs are added to the block corner to extend a dinosaur theme.


Related: How to Plan a Dental Unit. from Little Sprouts Learning


With any activity, sharing your enthusiasm and encouragement is invaluable to the learning process. Join in the activities with the children - dance, stack blocks, share stories, make hand prints in play dough.


What are we doing today?
One morning I had a child ask: What are we doing today? Once children learn that there is always something 'going on' in your classroom they will bring their energy and eager anticipation to the early learning environment.
By providing open-ended materials such as sand and water play, dress-up clothes, and art supplies, along with teacher-led activities such as reading and singing together during small group times, you are opening the door to countless opportunities for children to learn and grow, all while having fun!
Young children especially benefit from the care and expertise offered by early learning teachers. Your sincere commitment to understanding the role of play for nurturing developmental skills will assist you in developing a successful early learning program.
Making the effort to do the best you can for the children in your care will help bring out the best in them.


Here are the links for the posts included in this four-part series:
Part 1: Determining the Goals of your Early Learning Program

Part 2: Establishing a Daily Schedule for Your Early Learning Program

Part 3: Why There is Value in a Daily Planner for Your Early Learning Program

Part 4: Planning Quality Content for Your Early Learning Program (you are here!)
Content Busters!
(affiliate links)