Halloween Ghosts Felt Board Activity for Preschoolers
Try this fun, but not-too-spooky, felt board activity with your preschooler. These little felt ghosts are just waiting to shout BOO! from the branches of a Halloween tree on the felt board. Play the bonus games at the end of the post!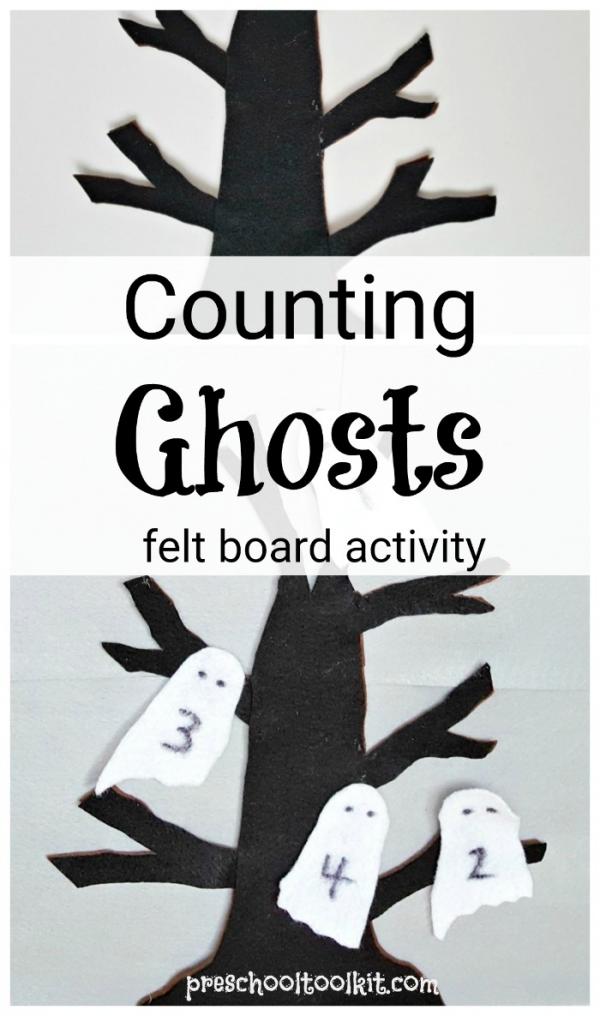 This post contains affiliate links. Privacy and Disclosure
Ghosts are fun to use in Halloween activities with kids. These little numbered felt ghosts provide opportunities for math games on the felt board.
Kids will have fun counting and sorting these friendly ghosts as they swoop through the branches of the felt tree.
Felt ghost activity
Felt is a durable material for kids activities. The ideas for using felt are limited only by your imagination.
Related: Felt crafts and activities on Pinterest
These ghosts are made with simple shapes that are easy to draw and cut out. The facial expressions can range from silly to not-too-spooky to scary.
We provide lots of links at the end of this post to keep the Halloween fun going.
Prepare the felt board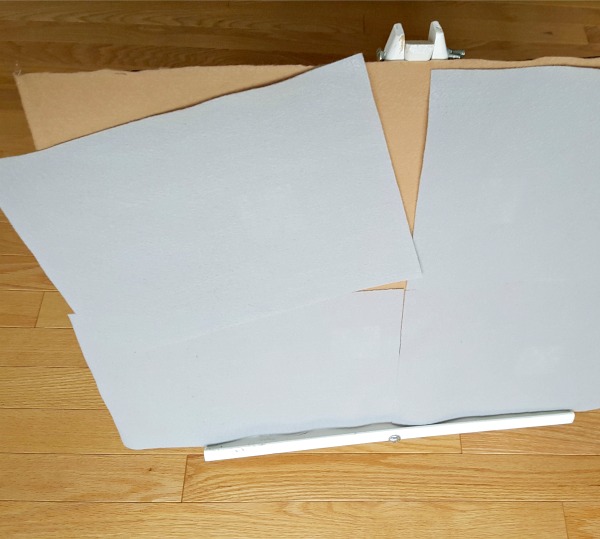 Cover the flannel board with grey felt to provide an appropriate backdrop for a Halloween scene. We used four squares of grey felt to cover the beige felt already permanently glued to our board, but a full size piece would be easier to work with if you have it.
You might prefer another color for the backdrop. How about purple?
Instructions for felt tree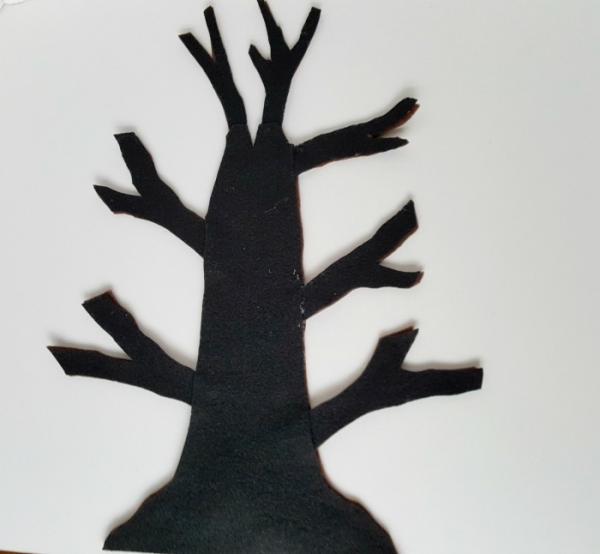 This is a reversible felt tree that is perfect for a variety of felt board activities including seasons and holidays. Prepare for this ghost counting activity by making a felt tree for the felt board.
Here is where you will find the easy instructions for the reversible felt tree.
Instructions for felt ghosts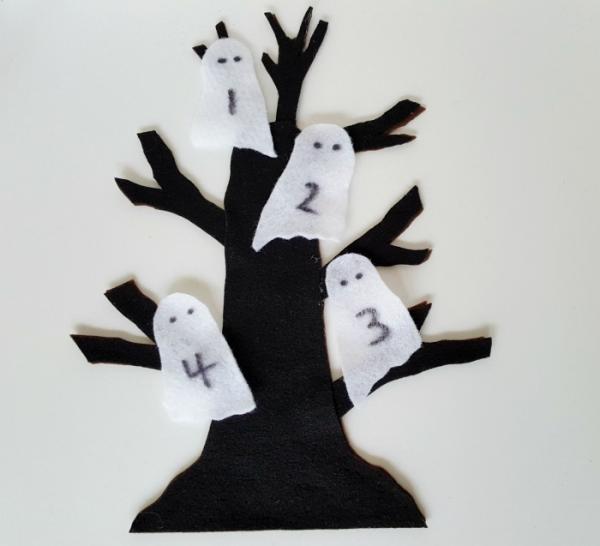 1. Cut felt ghosts from pieces of white felt. Add eyes with permanent marker.
2. Number the ghosts with a permanent marker or self-adhesive stickers.
Ghost games to play on the felt board
1. Ghosts in a Tree
Place the ghosts on a table with numbered side down. Turn over a ghost, say the number and place the ghost in the tree.
2. Scavenger Hunt
Hide ghosts around the room. Find the ghosts and line up in numerical order on the table. Place ghosts one at a time in the tree.
3. Number Matching
Place ghosts in numerical order on the table. Place a deck of numbered cards on the table. Turn over the top card. Match it to the ghost with the same number. Place the ghost on a branch of the tree.
4. Take-away Game
4 little ghosts in a Halloween tree - One says BOO! and then there are 3.
3 little ghosts look at me and you - One says BOO! and then there are 2.
2 little ghosts having Halloween fun - One says BOO! and there is 1.
1 little ghost says 'Who will play with me?' So 3 little ghosts fly back to the tree.
5. Memory Game
Make 2 sets of ghosts. Place numbered sides down on the table. Turn over 2 ghosts at a time. When a match is found, place the matching ghosts in the tree.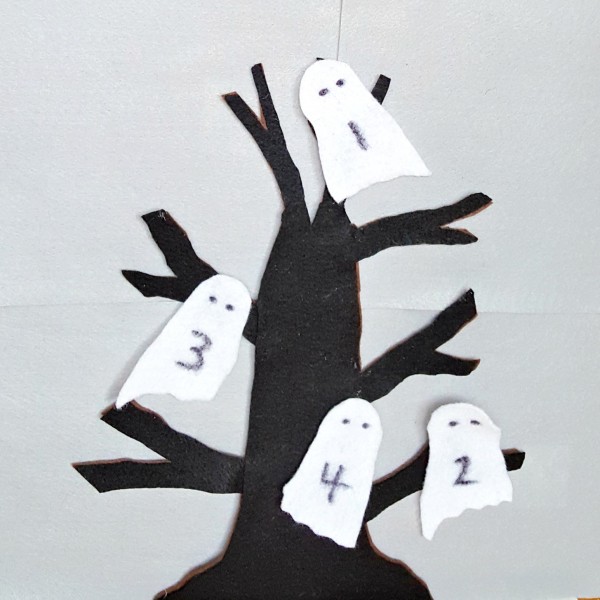 Ghost felt board activities provide lots of opportunities for child-led learning and skill development.
Games like the ones shown above provide math play.
Crafts and activities include fine motor and sensory play as kids paint, draw, cut and glue to make their not-so-spooky characters.
Puppets made with wooden spoons and paper bags promote awesome pretend play.
More ghost crafts and activities for Halloween!
Paper Plate Ghost from Easy Peasy and Fun
Salt Ghost from Crafty Morning
Contact Paper Ghosts from Lalymom
Tissue Paper Ghost from Rhythms of Play
Paper Bag Ghost from iHeart Crafty Things
Easy Ghost Craft with Printable from Housing a Forest
All the crafts and activities on Preschool Toolkit blog in one place!