Halloween Crafts and Activities for Preschool
Welcome to our Halloween page with all the Halloween crafts and activities you need. Pumpkins, puppets, jack-o-lanterns and more are waiting to be part of your holiday fun!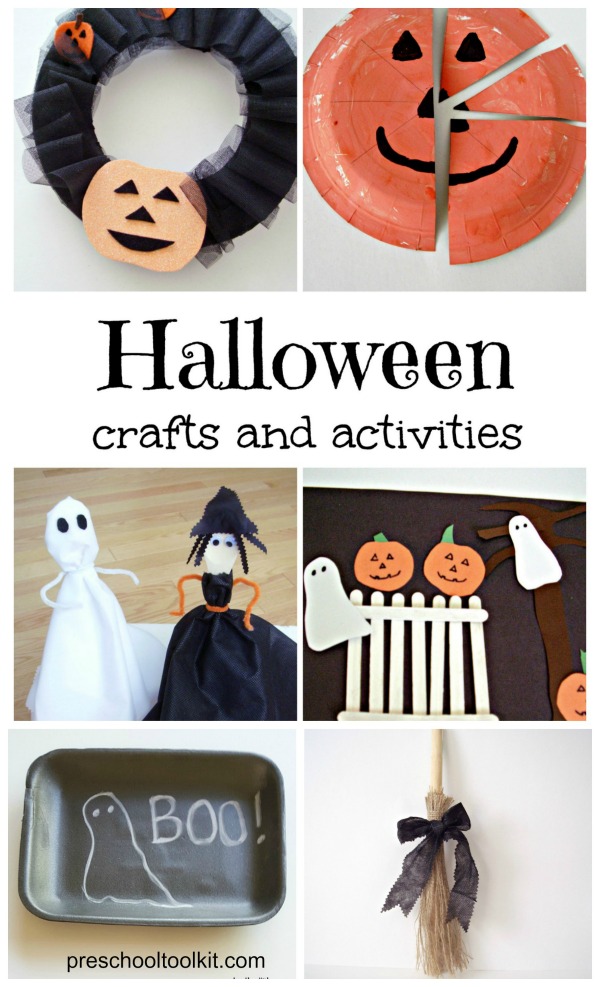 This post contains affiliate links. Privacy and Disclosure
Our Halloween crafts and activities provide fun opportunities for learning through play. Put on a puppet show, make a wreath, practice scissor skills, draw and paint!
Activities designed with kids in mind promote play-based learning. Early learners are encouraged to explore materials hands-on to use all their senses. Experiences and processes are given more emphasis than results, especially where art and craft projects are concerned.
Provide a variety of materials with color and texture and let hands-on learning begin!
Enjoy these kid-friendly activities in your Halloween theme.


Related: Program planning is easy with this Halloween Thematic Unit.

Halloween crafts and activities
The projects are grouped into three sections: pumpkins, ghosts, witches and spiders. This makes it easy to choose just what you need for the day's activity.
Pumpkins

Provide a creative painting activity with a Burlap Pumpkin Craft.
Roll a pompom seed in a Pumpkin Patch Maze for some science and fine motor fun.
Choose from 40+ Activities with Real Pumpkins for some hands-on fun.
A Pumpkins Creative Art Activity is easy with a craft stick painting tool.
Display Pumpkin Pictures in a Frame that kids paint and decorate.
Carving a jack-o-lantern can lead to a Painting With Pumpkin Pieces art activity.
A kids math activity is easy with a Paper Plate Pumpkin Puzzle.
Find the perfect costume for your jack-o-lantern for Halloween! What Hat Will My Jack-O-Lantern Wear?
Ghosts

Cut out felt ghosts for this Halloween Ghosts Felt Board Activity
Recycle sponges for this Sponge Painting Ghosts activity.
Explore Halloween art with Chalk Drawings on Foam Trays.
A puppet show with a Wooden Spoon Puppet supports imagination and language skills.
Explore the sights and sounds of Halloween with this What Will You See on Halloween Night? art activity.
Preschool counting and sorting are fun with Halloween Math Games with Beverage Stickers.
Enjoy rhyming and singing with a homemade Felt Glove for Halloween Finger Plays.
Make a Reversible Felt Tree for Halloween Activities and any season of the year.
Homemade decorations can be as simple and amazing as this Halloween Wreath.
Witches and broomsticks and spiders
Spiders can be fun in this Spooky Spider Halloween Craft.
Make a Paper Shapes Halloween Witch for hands-on math and creative play.
Make a Halloween Broomstick to decorate your home or classroom.
A simple witch puppet is easy to make for Halloween pretend play.
Inspire kids to experiment, explore and discover with hands-on activities.
(affiliate)