Preschool Art Activity with Paper Shapes
Paper shapes and a dab of glue are all you need to provide an arts and crafts opportunity for preschoolers. Jump-start the creative process with this simple paper shapes flowers activity.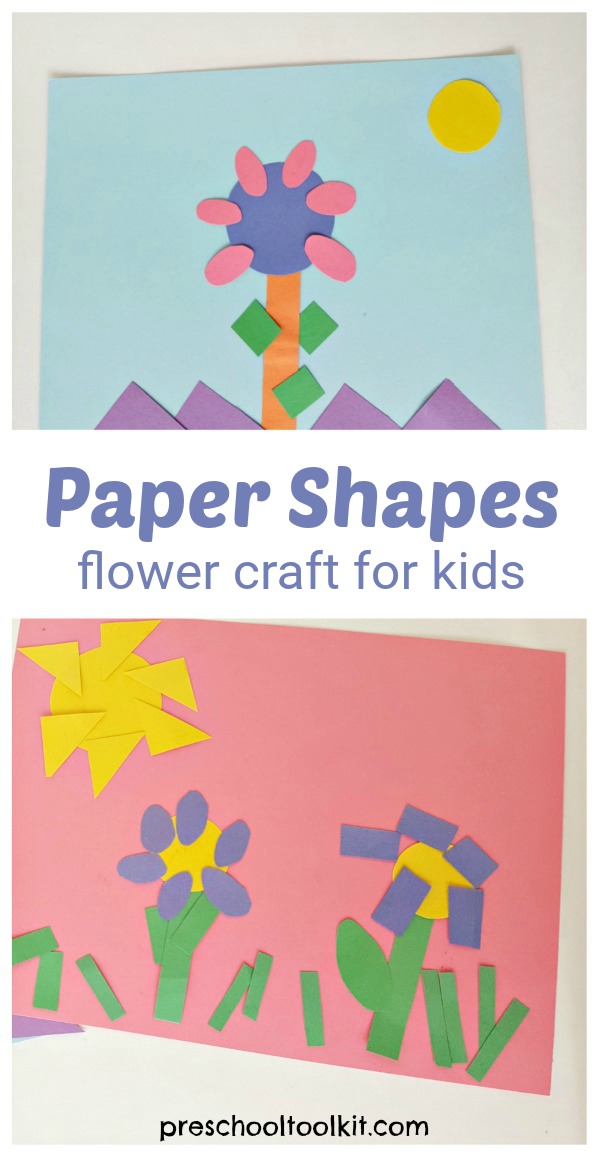 This post contains affiliate links. Privacy and Disclosure

If you have scrap paper, you have an art activity! A bit of paper and glue are all it takes to provide a creative play opportunity for preschoolers.
It's fun to make a Halloween witch for a seasonal theme, or decorate a paper crown with paper 'jewels' for pretend play.
We love activities using paper shapes in craft activities. They have a so much opportunity for engaging early childhood skills: fine motor, math, creative, sensory, language.
In this activity, kids can arrange shapes to make pretty spring flowers, or any other design they can imagine.


Paper shapes art activity
A variety of paper cutouts is an effective prompt to get kids started with some creative thinking.
Use different types of paper, and different colors, to inspire patterns and designs.
Glue sticks are a good tool for preschoolers, but you can also use white school glue. Here is an option for dispensing white glue for kids art projects.
Pour glue into a jar lid. Paint the glue onto the paper with a small paint brush.
Supplies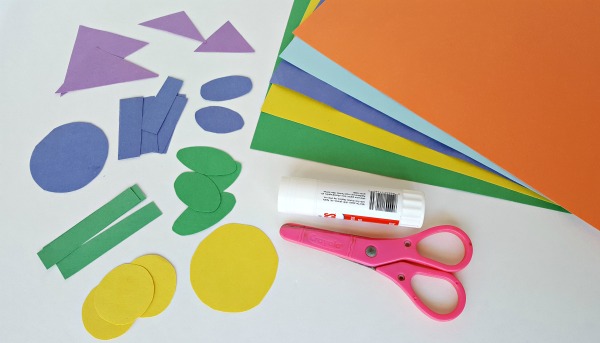 glue stick or white school glue
Instructions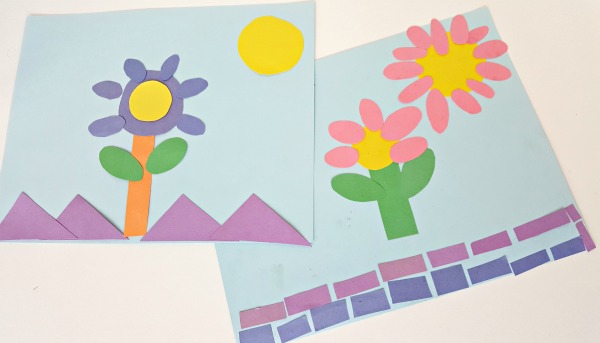 1. Begin by cutting and arranging shapes on the paper before gluing them in place.
You can cut some basic shapes beforehand.
2. 'Paint' a portion of the paper with a glue stick. Arrange the paper shapes. Move shapes around a bit if preferred, before deciding on the final result.
Suggest flowers, clouds, or trees if kids need prompts. Assist with cutting out shapes if your child asks for help, or becomes frustrated.
Kids may simply make a collage of various shapes, without a determined end product.


The object of the activity is not to reproduce a certain design or object.
Let creativity flow without concern for the end result!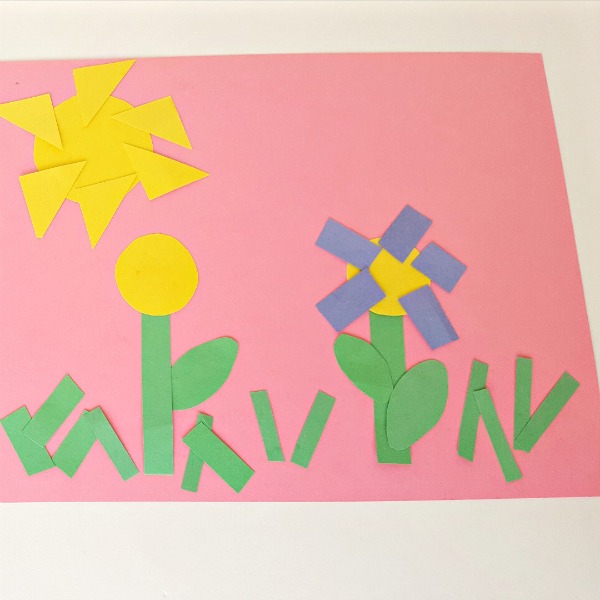 Early skills
Kids use critical and creative thinking skills to sort and organize shapes.

Kids strengthen fine motor skills and hand-eye coordination as they cut shapes and apply glue.
Add an art activity with paper shapes to the first week of preschool. It's an open-ended activity that allows kids to practice working with craft supplies.
This is an easy setup with creative results!
More cutting and gluing from kid-friendly bloggers!


Cutting practice with scissors from This Reading Mama.
Cutting strips from Royal Baloo
Preschool Cutting Practice from 3 Boys and a Dog
Creating Designs with Squares from Buggy and Buddy
Favorite Ways to Glue from Teach Preschool
Spring Season Pinterest Board