Christmas STEAM Activity with Pompoms
The colorful pompoms in this Christmas activity provide lots of different ways for kids to build and create. This simple hands-on activity engages kids in fine motor and sensory play with STEAM.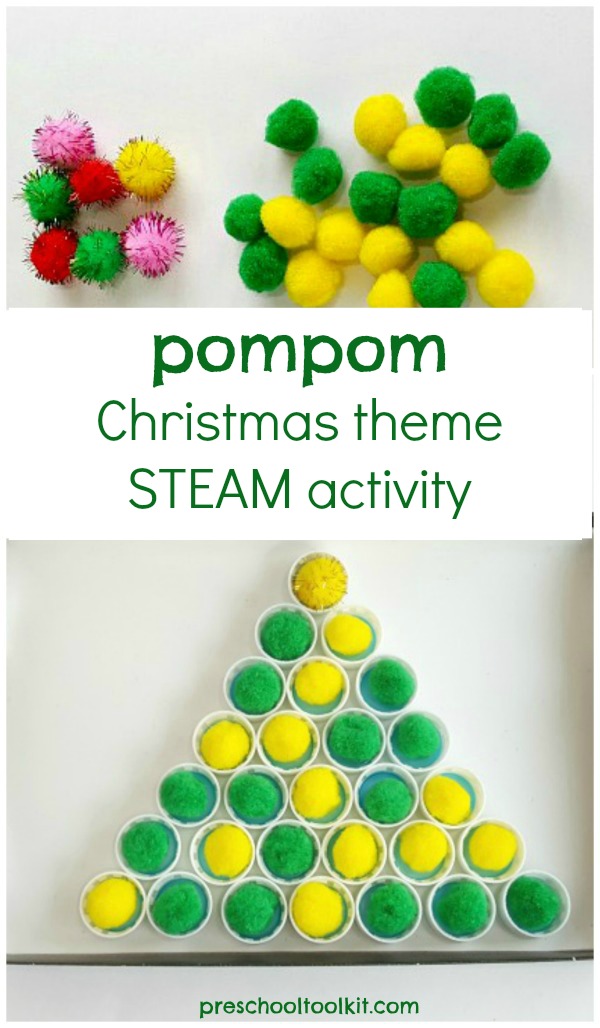 This post contains affiliate links. Privacy and Disclosure
Christmas crafts and activities are often inspired by stories and traditions of the season. The colors, shapes and textures are seen in Christmas trees, candy canes, wreaths, and more.
In this STEAM activity, kids can make shapes, create designs, count and sort colors, and work within a defined space.
Pompom STEAM activity
STEAM is a method of combining elements of both science and art in hands-on activities. Principles of STEAM are evident in many of the crafts and activities we set up for kids, as well as in their independent play. Look for more information at the end of the post.
A STEAM activity with a Christmas theme is easy to set up with pompoms and bottle caps.
Supplies
tweezers or grasping tool (optional)


sheet of craft foam
Instructions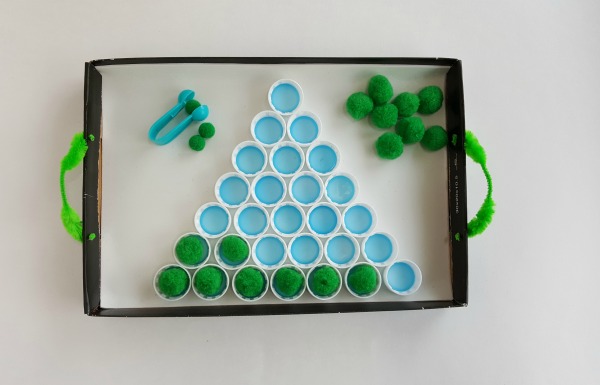 Christmas tree
We used a craft tray we made from a box lid to transport supplies to the work area. The tray is also used as a space for the activity.
Line the bottom of the tray with a sheet of craft foam to prevent the bottle caps from sliding around.
Arrange bottle caps on the tray to form a pyramid that resembles a Christmas tree.
Place pompoms in the bottle caps, 1 large pompom or 2 -3 small pompoms. Use fingers or a grasping tool to pick up pompoms.
Be creative with the colors and shapes. Incorporate different colors of pompoms and make interesting designs with the bottle caps.
The following examples will give you more ideas for building and creating with a Christmas theme.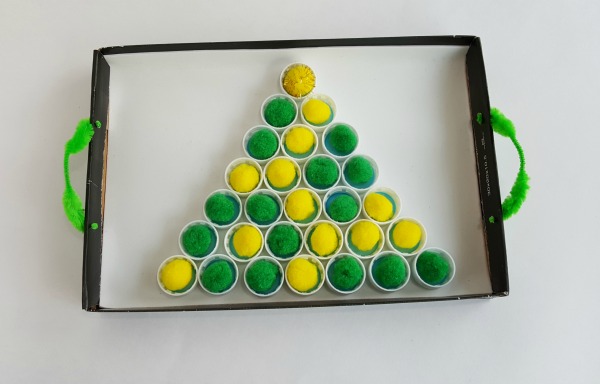 Christmas tree with lights and a glittering topper!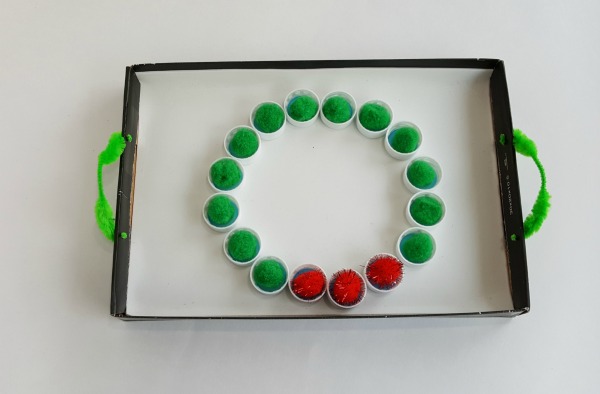 Christmas wreath with a red bow!
Candy cane!
This simple activity is fun for toddlers and preschoolers. Counting and designing with colorful pompoms promotes hands-on interaction with materials to exercise developmental skills.
STEAM: Science + Technology + Engineering + Art + Math
Technology: using tweezers or tongs
Engineering: planning, building
Art: colors, designs
Math: counting, sorting, shapes
Imagine what you can create with bottle caps and pompoms!
exciting activities for a merry and bright holiday season!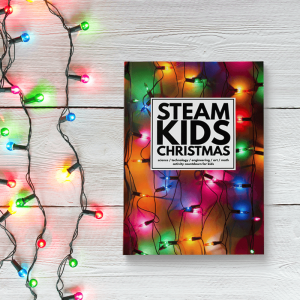 Buy it now as a gift for family or friends!


Visit our
Christmas Pinterest
board for more crafts and activities.