Shamrock Garden Preschool Art Activity
Color and glue shamrocks for a fun and easy St. Patrick's Day craft. Get out the green crayons for this fine motor art activity with your preschoolers.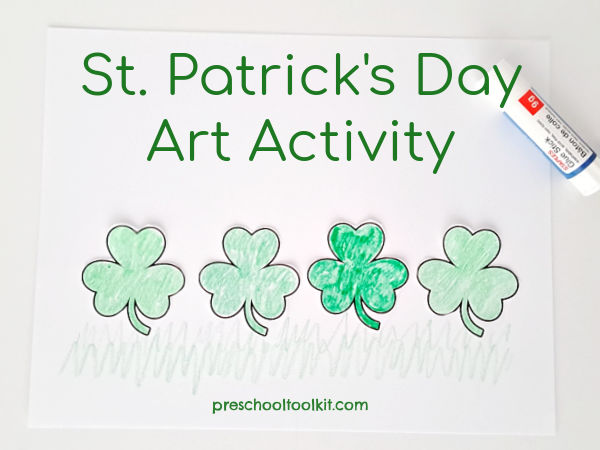 Privacy and Disclosure for information on cookies and affiliates
And the green grass grows all around, all around......
Do you know this popular children's song? It's a fun lyric that repeats the color 'green' over and over.
Kids love to recognize and name colors, all the colors of the rainbow. We can provide fun color recognition activities that easily support this developing skill, activities for any day, any season.
We draw attention to red for Valentine's Day, yellow for the sun in summer, brown for a spider on a branch.
St. Patrick's Day activities highlight the color green. There are lots of different ways to include all things green in your everyday play with preschoolers.
wear green clothing
eat green foods
make green play dough
There are also lots of books where color green is prominent. They can be read at St. Patrick's Day or any day of the year.
St. Pat's Day crafts are another way to recognize and name the color green.
Shamrock Garden Art Activity
Since the shamrock is the traditional plant for this holiday, it's only natural that we want to have a shamrock craft.
Related: DIY Shamrock Puzzle

Kids can color and glue shamrock cutouts with this simple art activity.
This will be fun for your St. Patrick's Day theme.
Supplies
Instructions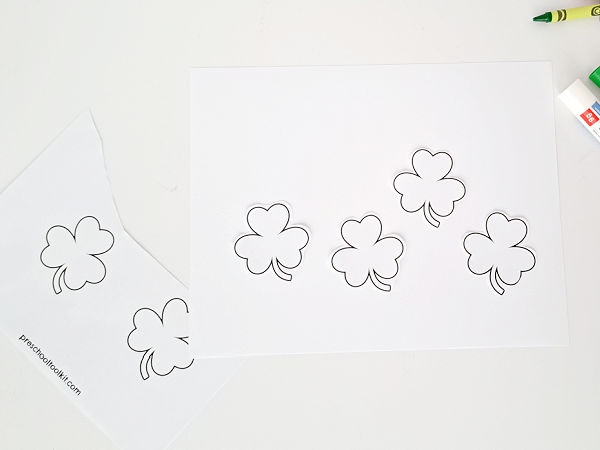 Print the template with the shamrock pictures.
Cut out the shamrocks.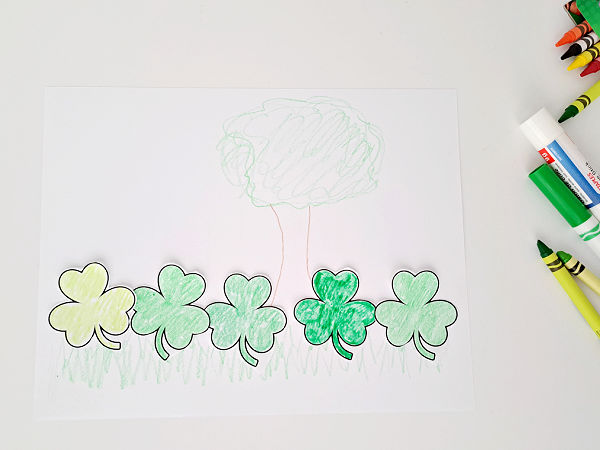 Design your picture!
1. Place the shamrock cutouts on plain paper. Arrange and rearrange until your picture is just right.
2. Glue the shamrock cutouts to the paper.
3. Color the shamrocks with crayons or markers. Experiment with various shades of green.
4. Add trees and grass or other drawings to your picture.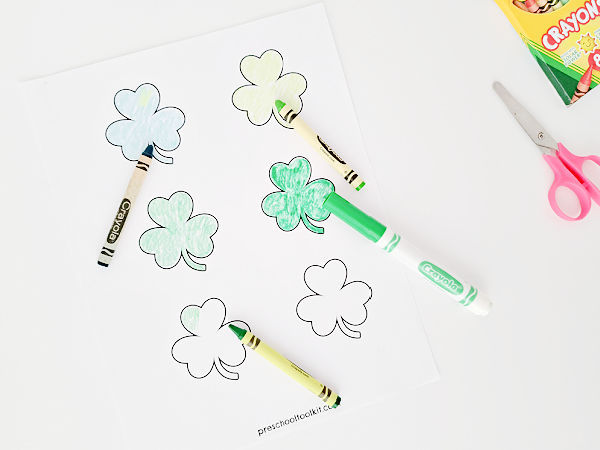 If preferred, kids can color the shamrocks first, then cut them out.
This step supports practicing scissor skills.
Experiment with various shades of green. Talk about the different colors.
In this picture we used blue-green, lime green and green. We also used a green marker.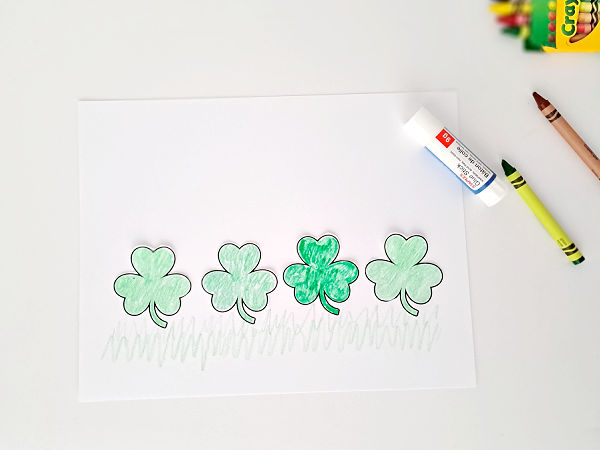 This is a fun and easy craft for kids that brings out the creativity and fine motor skills.
Display your pictures at home or in the classroom on St. Patrick's Day.
The end of the lyric above is......and the green grass grows all around.
Make this the greenest St Patrick's Day yet with your shamrock garden!