Felt Easter Egg Preschool Activity
This simple tray activity is an invitation for toddlers and preschoolers to practice sorting, matching and creating with felt Easter eggs. Engage kids fine motor and math skills with easy setup in this hands-on Easter themed activity.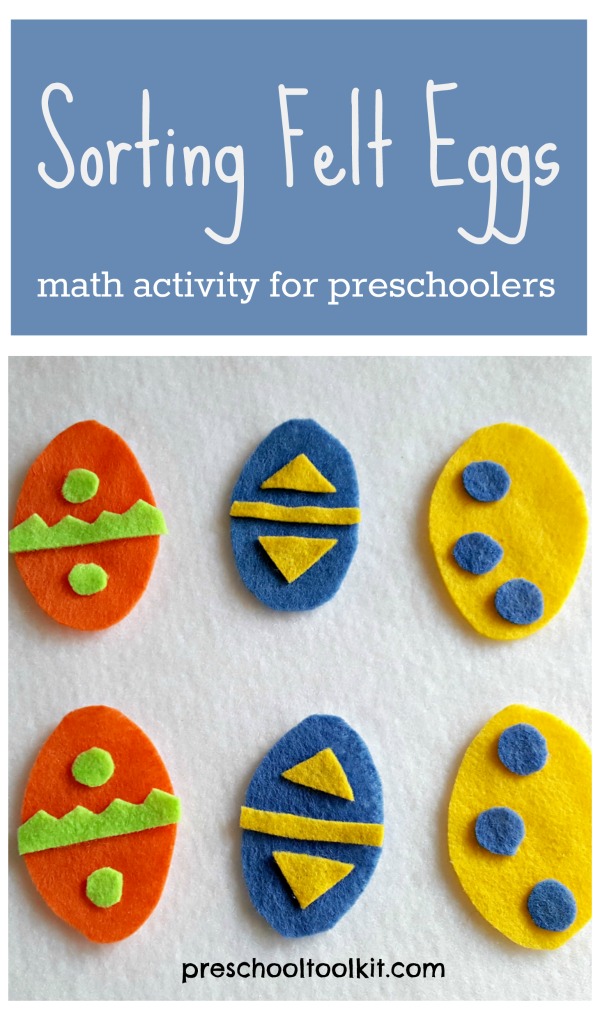 This post contains affiliate links. Privacy and Disclosure
Easter egg activities come in all shapes and sizes, with many different materials.
Decorating eggs is a special part of the Easter season.
Felt Easter egg activity
This felt activity combines fine motor and sensory fun while promoting math skills such as counting and sorting.
Felt is an awesome material to use in crafts . It is easy to work with and very durable for kids to handle over and over.
Instructions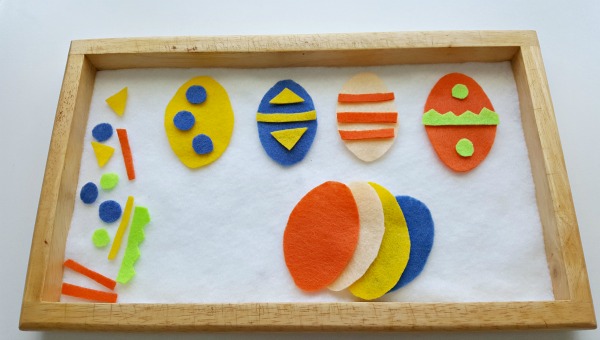 1. Cut out two sets of egg shapes from various colors of felt.
2. Glue small pieces of felt to one set of felt eggs in colorful patterns.
3. Place the prepared set of felt eggs on a tray lined with felt, along with a set of plain egg shapes.
4. Add small pieces of felt to the tray, in shapes and colors matching the ones on the prepared eggs.
If you don't have a tray handy, we have a tutorial for making a craft tray from a box lid that would work just as well for this activity.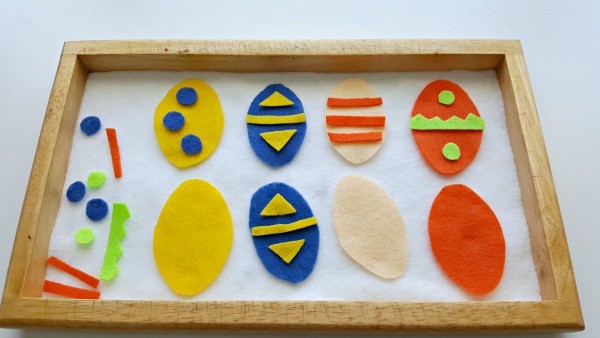 5. Invite kids to place shape cutouts on the plain eggs to match the prepared eggs. This will prompt sorting the eggs by color, choosing felt decorations, and matching the patterns to those on the prepared eggs.
As your child plays, talk about the different colors of the eggs, and the shapes being used to make the patterns.
Independent play
Leave the tray in the play area, or arts and crafts corner, so kids can create their own designs on the felt eggs.
This activity provides a great opportunity for creative learning through child-led play.
This activity promotes color recognition as well as math and sensory play. Kids use their cognitive and math skills to sort, count and match colors and shapes, and copy patterns.
They also have the opportunity to create new designs, and engage fine motor skills to decorate the eggs.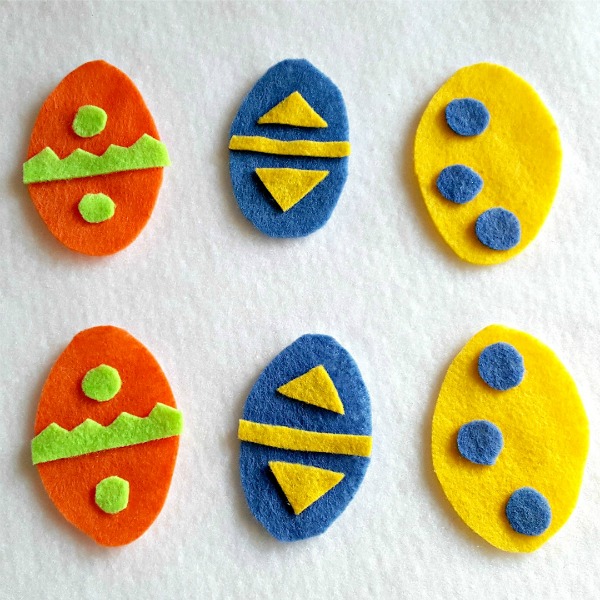 Invite kids to create Easter eggs with this felt tray activity that is easy to set up and mess free!
Easter crafting provides valuable sensory and creative experiences for kids.
Set out materials with a variety of textures and colors, and support child-led and independent play.